EVENTS
the Grand conseil dU vin de bordeaux,
CommanderIES, Wine brotherhoods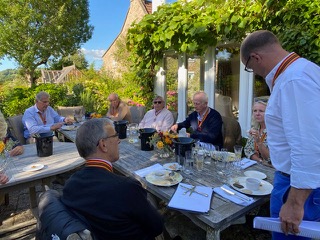 Commanderie
July 20, 2020
Bordeaux 2019 Vintage Tasting - 6th July 2020 - Commanderie de Bordeaux in Bristol
Commanderie de Bordeaux in Bristol - Bordeaux 2019 Vintage Tasting
Monday 6th July 2020

Maître Sue Darwall-Smith:
"I am delighted to report that we enjoyed a very successful tasting of the 2019 vintage last Monday, 6th July 2020, at my home, Church Farm House in Ubley near Bristol.
Thank you to all the chateaux and wine merchants who so generously provided their wines for us to taste, such a wonderful variety of interesting wines, and for sending their very useful Fact Sheets. A big thank you too, to Grand Maître Hubert de Boüard and to Caroline & Anne-Marie for organising the dispatch of all these wines to Bristol.
The wines were full of fruit and freshness. Many were approachable now, but it was also interesting to note those that would obviously last for many years. 2019 promises to be an exceptional vintage!
Afterwards, you will be able to read a report on the tasting prepared by our Honorary Secretary Paul Cooper.
Many thanks to Charles Lucas too, who worked very hard to ensure that everyone tasted all the different wines. It was a very happy and fun evening and so good to meet together as a Council once again to experience this superb tasting of lovely Bordeaux wines.
Sadly, we were unable to invite more Commandeurs in view of the current restrictions. However, at the end of the evening, corks were replaced on any remaining wine and everyone chose their favourite wines to take home to enjoy with family and friends. Nothing was wasted!
We were very fortunate that the weather was good and we were able to hold the event outside in the garden……suitably distanced! It was a very special occasion!
We convey to all our sincerest thanks."
En Primeurs Bordeaux 2019 Tasting by the Commanderie de Bordeaux in Bristol
This was an informal tasting for members and recent members of our council hosted by the Maître and Simon Darwall Smith in their wonderful garden at Ubley. The GCVB had kindly sent a large number of 2019 en Primeur wines for us to taste and the châteaux had all provided Fact Sheets for their their wines, which were very helpful.
We were welcomed with a glass of champagne and were provided with a plate of excellent cheeses, supplied by The Somerset Cheese Company.
The wines were tasted: Crémant de Bordeaux, white, rosé then red, followed by the dessert wines. There was no particular order to the presentation of the wines in their categories.
Lisennes - AOC Crémant de Bordeaux
Rounded and demi-sec. Interesting and enjoyable. A good start to the tasting.
White wines
Maison Ginestet
Sauvignon Blanc and Semillon blend. A fresh wine, ready to drink now.
Château Le Grand Verdus, AOC Bordeaux Blanc sec
More Sauvignon Blanc in this blend and a lot more fruit. Very much in the modern style and very pleasant.
Cuvée Clémence, AOC Entre-Deux-Mers
Fruity with woody aromas.
Rosé
Citran - Maison Ginestet - AOC Bordeaux Rosé
A light rosé
La Collection Numero Un
Very fruity.
Château Le Grand Verdus AOC Bordeaux Rosé
Good texture and flavor; it is very similar to the white, which is just a little crisper.
Château de Parenchère, AOC Bordeaux Clairet
A superb colour, an interesting wine.
Red
Château La Freynelle 2018
A special mention for Veronique Barthe, who slipped her 2018 into a 2019 en Primeur tasting! Approachable now with good fruit.
Bad Boy -SAS Thunevin
Anticipated because of its name. A well-made wine with freshness and energy.
Château des Tourtes, - Vin'Ature - AOC Blaye, Côtes de Bordeaux
Well structured, plenty of body. The Petit Verdot shows through. The wine is approachable now and we liked it very much.
Château de Francs, Franc Côtes de Bordeaux
An enjoyable glass of wine,approved by the group.
Chateau Gaby - AOC Canon-Fronsac
Many in the group liked this wine for its strong tannins and structure.It should develop well.
Château de Pitray, AOC Castillon Côtes de Bordeaux
A well-structured wine with good fruit and tannin. Lovely, with loads of potential.
Château Haut-Gayat, AOC Graves de Vayres
Quite tannic, but has good potential nonetheless.
Château Roquetaillade La Grange, AOC Graves
An enjoyable wine. Aromas and taste of fruit.
Château Cap Leon Veyrin, AOC Listrac Médoc
Predominantly Merlot, with Cabernet Sauvignon and Petit Verdot. A gentle and interesting wine with good tannin.
Château Caroline, AOC Moulis, Vignobles Chanfreau
Strong tannins but good fruitiness. Will be very good.
Château La Tour Martillac, AOC Pessac Leognan
Lots of flavour and approachable now. Energy and length, a complete wine that was very well liked.
Château La Cabanne, AOC Pomerol
Tannins are a little tight at the moment but a lot of flavour; there is clearly good potential.
Château St Georges, AOC St Georges St Emilion
Plenty of fruit and flavour.
Château Franc Le Maine,AOC St Emilion Grand Cru
Elegant. Will be very good.
Cháteau Grand Corbin, AOC St Emilion Grand Cru
Very elegant and showing very pleasant character. A wine to keep.
Château Maurac, AOC Haut Medoc, Cru Bourgeois
Round and approachable, a wine to drink sooner rather than later.
Château Pedesclaux, Paulliac
A very generous wine. Impressive.
Château Siran, AOC Margaux
Lots of fruit and will probably be pleasant to drink quite soon.
Dessert wines
Château Clos Jean, AOC Loupiac
Powerful and gorgeous. We liked it very much.
Château de Myrat, AOC Sauturnes
Well balanced, elegant, refined fruit. Very good.

During the tasting, it was interesting to note the distinction between wines made to sell and drink now and those that are being produced to drink in the future.
Huge thanks to the Grand Conseil du Vin de Bordeaux for supplying a most interesting variety of wines; to the Cellar Master for his hard work and impeccable organisation of the tasting; and finally, to Maître Sue Darwall-Smith and her husband Simon for a wonderful evening and their excellent hospitality.
Paul Cooper,
Honorary Secretary
List of the 30 wine samples:
Château Parenchère 2019 AOC Bordeaux Clairet
Château Le Grand Verdus AOC Bordeaux Blanc
Château Le Grand Verdus AOC Bordeaux Rosé
Lisennes Crémant AOC Crémant de Bordeaux
Cabernet Sauvignon Château La Freynelle 2018 AOC Bordeaux Rouge
Château Siran 2019 AOC Margaux
Château Pedesclaux 2019 AOC Pauillac Grand Cru Classé
Château Maurac 2019 AOC Haut-Médoc Cru Bourgeois
Château Caroline 2019 AOC Haut-Médoc
Château Cap LéonVeyrin 2019 AOC Listrac-Médoc
Château Latour-Martillac 2019 AOC Pessac-Léognan Rouge Grand Cru Classé de Graves
Château Roquetaillade La Grange 2019 AOC Graves Rouge
Château Crabitey 2019 AOC Graves Blanc
Château de Myrat 2019 AOC Sauternes - Grand Cru Classé en 1855
Clos Jean 2019 AOC Loupiac
Château Gaby 2019 AOC Canon-Fronsac
Château La Cabanne 2019 AOC Pomerol
Château Saint-Georges 2019 AOC Saint-Georges Saint-Emilion
Château Franc le Maine 2019 AOC Saint-Emilion Grand Cru
Château Grand Corbin 2019 AOC Saint-Emilion Grand Cru Classé
Château de Pitray AOC Castillon Côtes de Bordeaux 2019
Château Haut-Gayat 2019 AOC Graves de Vayres
Château Faugas 2019 AOC Cadillac
Château de Francs 2019 AOC Francs
Vin'Ature - Château des Tourtes 2019 AOC Blaye
Citran 2019 Maison Ginestet AOC Bordeaux Rosé
Ginestet 2019 Maison Ginestet AOC Bordeaux Blanc
Cuvée Clémence 2019 Cheval Quancard AOC Entre-Deux-Mers Blanc
Bad Boy 2019 SAS Thunevin AOC Bordeaux Rouge
Bord'Art 2019 MT Vins AOC Bordeaux Rosé
Back to the Events list