EVENTS
the Grand conseil dU vin de bordeaux,
CommanderIES, Wine brotherhoods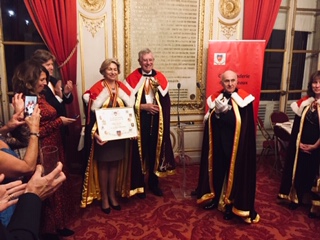 Commanderie
November 12, 2019
Commanderie de Bordeaux in Paris - Gala Evening at the Palais de Luxembourg, 23rd October 2019
On 23rd October 2019, the Commanderie de Bordeaux in Paris, the CDBP, held a Gala evening reception at the Palais de Luxembourg and it was a tremendous success.
It enabled the Commanderie to honour Francis Boutemy, the outgoing Grand Maître and President of the Grand Conseil du Vin de Bordeaux, who presented to Mrs Nathalie Delattre, Senator of the Gironde, the title of Ambassdor of Bordeaux Wines and he also inducted four new members of the CDBP.
All the team of the Senators' Restaurant, supervised by Jean-Christophe Trubert, Director-Manager and his Chef, Mr Christophe Blinet, achieved a remarkable feat by the quality of their service and the very high standard of cuisine, highlighting Bordeaux's Fine Wines.
The Commanderie de Bordeaux in Paris also thanks winegrowers for their great generosity: Jean-François Boras, Clairet du Domaine de Bellevue, the Bonnie family, Château Malartic-Lagravière, Francis Boutemy, Château Haut Lagrange, Hubert de Boüard, Château Angélus.
Eric Vogt, Grand Maître of the Commanderies de Bordeaux in the US travelled to France in honour of Francis and Catherine Boutemy, with Robin Grumman-Vogt, his wife and Maître of the Commanderie de Bordeaux in Boston. Paul Chedgy, representing the Commanderies de Bordeaux in the United Kingdom, also made the trip to Paris with his wife Diana. Another VIP who was able to join the evening was the Prefect, Cyrille Maillet, Honorary Member of the CDBP since its creation, with his wife Véronique, Mayor of Bouchemaine, General Councillor of Maine and Loire, Vice-President of Angers.
Present at this superb Gala evening were 17 of the 19 members of the Paris Commanderie, 4 new inductees, spouses and guests, making a total of 40 people.
As a "bonus", Senator Mrs Delattre took all those present to the auditorium during the evening to observe a session of Parliament with Madam Lord Chancellor.
Below you can read the poem written by Eric Vogt, as a tribute to Francis. You also have some photos in memory of this superlative evening in one of France's most historical settings, the Salon Napoleon.
A salute to our Grand Maître Francis,
Who is bold, and is willing to take chances.
Under his great regime,
He unleashed his grand scheme,
And grew China, despite circumstances.
In the US, he is beloved.
The firm hand inside the velvet glove.
Increasing our dues,
With scarcely a bruise,
And using just a gentle shove.
His enthusiasm knows no bound,
Francis flies high above the ground
Let's build a website,
With 4,000 Knights,
Thru the world, our glory will resound!
In Bordeaux, he is known by all,
To host a fete, he just makes one call,
"Mon cher ami,"
"Grand Maître, je suis"
And the château offers up their hall.
Francis must travel far and wide,
With Catherine seldom at his side,
It is a lonely quest,
Executed with zest,
He does it all without breaking his stride.
Haut Lagrange holds his warm heart,
And gives his son Ghislain a head start.
Grape picking is tough and mean,
Francis invents a new machine!
And the pickers ride low on the cart!
I bring congrats from the states,
1,300 Commandeurs all your mates,
We will miss you dearly,
And drink to you yearly,
While we are pleased to have no more debates!
Eric E. Vogt,
Grand Maître des États-Unis
October 23, 2019
Palais de Luxembourg
Back to the Events list