Veranstaltungen
the Grand conseil DU VIN DE BORDEAUX
CommanderIES, WINE brotherhoodS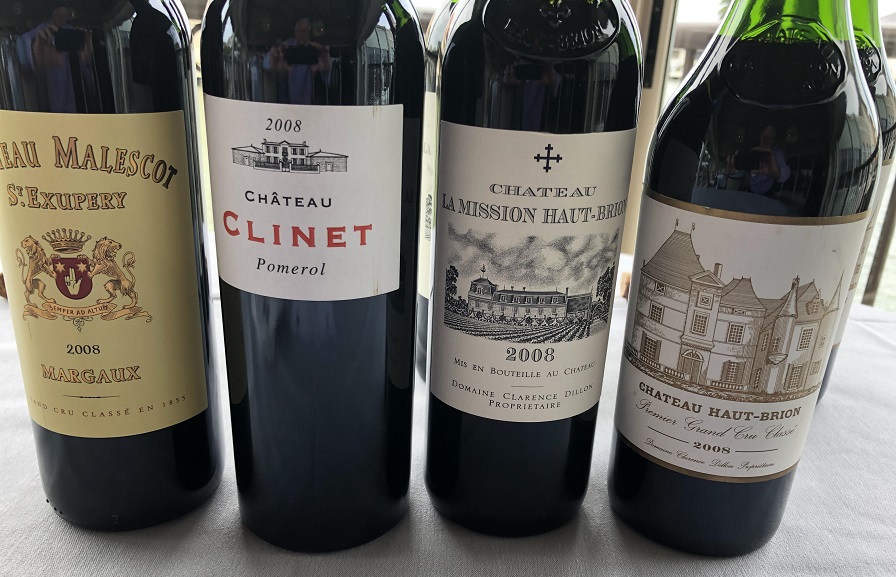 Commanderie
May 20, 2021
Commanderie de Bordeaux in Naples - Bordeaux Fine Wines Luncheon - Thursday, 20th May 2021
Mr Jon DeMoss – Maître of the Commanderie de Bordeaux in Naples
The Naples Commanderie held its first event since the advent of the Coronavirus on May 20th, 2021. This was a luncheon held at the M Waterfront Grille in Naples, which is renowned for the quality of its food.
Here are a few photos : the appetizers, the menu, and the red wines served during the luncheon. We showcased the 2008 vintage for reds, with two wines being served with each meat course. I believe that this is the first time we have served 2008s. We double decanted all of these wines approximately four hours before they were served.
The wines with the first course, Chateau Client and Chateau Malescot St. Exupery, were clearly ready to drink but will probably improve, especially the Client. Serving a Pomerol with a Margaux gave a nice Left Bank / Right Bank comparison. These wines were both excellent and went well with the Lamb course.
For the main course we served a Chateau Haut-Brion and a Chateau La Mission Haut-Brion. These two wines were amazing all round, starting with a wonderful nose and continuing through a long complex finish. It was a consensus that at this point the La Mission is more ready to drink and more impressive, but that the Haut-Brion contains more complexity, more potential for development, and will evolve into the better of the two wines in a few years. They are both extremely enjoyable today and the future bodes well for both. It was really a treat to be able to enjoy these exceptional wines side by side.
The 2012 Chateau Pape Clement White was a delicious accompaniment for the fish course and the 2007 Chateau Guiraud worked nicely with the dessert.
The luncheon was very successful. The food paired very well with the wines, which were all supplied from the Commanderie's cellar. Everyone was delighted to have an opportunity to get back together.
We also invited three prospective new Naples Commanderie members.
Zurück zur Liste der Events