Veranstaltungen
the Grand conseil DU VIN DE BORDEAUX
CommanderIES, WINE brotherhoodS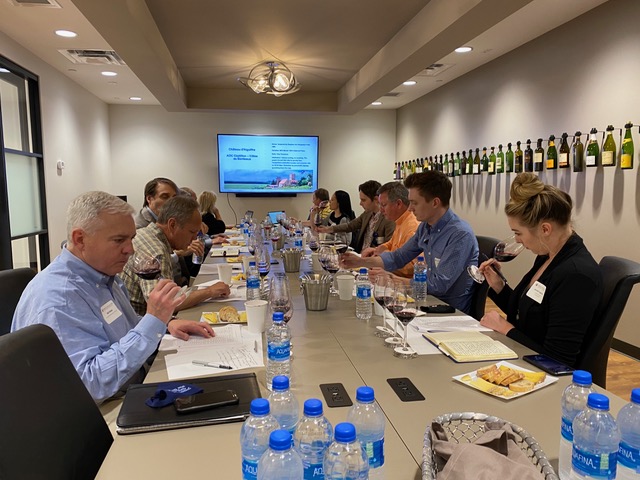 Commanderie
April 28, 2021
"Bordeaux 2020 Vintage Tasting", Commanderie de Bordeaux in Nashville, Wednesday 28th April 2021
Mr David Morgan – Maître of the Commanderie de Bordeaux in Nashville

The "Bordeaux 2020 Vintage Tasting" was held at the Nashville Wine Auction on Wednesday 28th April 2021.

Here are some tasting comments from several wine professionals :

Jenelle Engleson, Formerly Sommelier at Hendleys, now working with Lipman Brothers Wholesaler
Thank you for including me in this very exciting event. Below are a few of my notes on favorite wines of the day.
Chai de Bordes: savory, lush and complex- thrilled to see how this wine evolves.
Chateau Suau: full of juicy ripe red fruits- this wine was spunky and would be delightful as a summer red
Chateau Les Combes: supple tannins with lingering red fruit spices, lovely easy drinking right bank
Chateau Fonplegade: bold, juicy, herbaceous and structured tannins, I think this wine will age well
Chateau Rauzan Gassies: complex and earthy, this was my favorite red wine of the tasting
Chateau Beychevelle: smooth, lush and showed beautifully- I think this wine will open up nicely with years to come
Citran - Maison Ginestet: light, crisp, aromatic and citrus driven. This would do well in Nashville during the summer months
Chateau Couhins: bright citrus, with secondary honeyed and yeasty characteristics, very interesting wine
Chateau Doisy Daëne: honey and orange marmalade, this needs to be on all Nashville's sweet wine lists.


Alex Burch, Wine Director, Bastion Restaurant
The white wine flight was eye opening. I thoroughly enjoyed seeing the range of styles that are currently available.
The Maison Genestet, Citran Bordeaux Blanc was crisp and fresh and great daily drinker.
Château Jouvente's Graves Blanc, was fun too, the extra texture and rounded aromatics would be good to use in food and wine pairing.
I really enjoyed seeing how Sauvignon Gris was utilized.



Jennifer McDonnell, Wine Director, E3 Chophouse Restaurant
Here are just a few of my quick tasting notes to share:
• The first 6 wines were nearly approachable now and won't need 20+ years to fully enjoy their expressions. Of these I especially enjoyed the Chateau Turcaud 2020 Bordeaux Rose and the Chateau Martinat 2020 Côtes de Bourg.
• Of these second group, I most enjoyed the Chateau Dalem and loved learning that it is produced by a female winemaker. The fruit expression on the Dalem Fronsac was noticeable and perfectly pleasing.
Our next group, here we shifted to more Cabernet Sauvignon based wines. For me this was the most eye-opening part of the day, to be tasting wines and imagining how they might develop over time. I thoroughly enjoyed the Chateau Lafon Rochet 2020 Saint Estèphe, noting "just beautiful" next to this one!
• Refreshing our taste buds, we moved on to the white Bordeauxs and I was thrilled. Immediately, the Chartron La Fleur 2020 from Maisons Shroder & Schyler was "wow - zest jumping out of the glass". In this group I was most enamored with the Citran 2020 from Maison Ginestet and again marked it as "absolutely beautiful" and would certainly consider adding this to our wine list.
• We finished the tasting with Moelleux & Sauternes (Barsac). Naturally, the Le Blanc de Monsieur Ducourt 2020 Bordeaux Moelleux semi-dry and Chateau Doisy Daëne 2020 Barsac both got big stars next to their listings from me. I especially like the idea of adding the Bordeaux Moelleux semi-dry to our list as an interesting comparison to our current Late Harvest, Sauternes, and Ice wines.
I am grateful to the producers and wine merchants for offering their wines to the Commanderie de Bordeaux and for the Nashville Commanderie chapter for extending an invitation to include me.
Chris Chamberlain, Freelance writer (Food, Drink and Travel), Nashville Scene
I really enjoyed the minerality of the Château Turcaud, and the Château Martinat was a standout among the first flight of red wines. The middle flight had some of my favorites of the day, I especially liked the Château Dalem and Château Fonplégade. Perhaps a trip to Saint-Emilion …...
The Left Bank wines, of the quartet from the Médoc, the oaky Château Beychevelle with its dark fruits was my favorite.
With the white wines, I found some new winners. The floral nose of the Citran was lovely. Château Couhins was approachable and pleasing, but I am most interested by the wine of Château Jouvente.
Of the sweet wines, I actually preferred the light and refreshing Le Blanc de Monsieur Ducourt.
Zurück zur Liste der Events