Veranstaltungen
the Grand conseil DU VIN DE BORDEAUX
CommanderIES, WINE brotherhoodS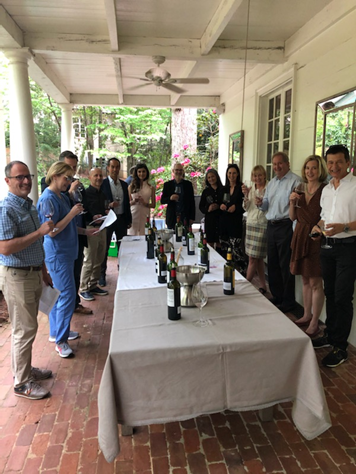 Commanderie
April 27, 2021
"Bordeaux 2020 Vintage Tasting" Commanderie de Bordeaux in Atlanta, Tuesday 27th April 2021
The "Bordeaux 2020 Vintage Tasting" was held at the home of Maitre Doug Bryant. Doug scheduled tasters in staggered groups and held the tasting outdoors on his verandah. The general impression was that 2020 is an enjoyable vintage with good quality. There seemed to be a general impression that many of the right bank reds would peak earlier than those on the left, with a popular preference for the left bank. The sweet wines received a lot of praise, with mixed reviews of the white wines.
Here are some tasting notes from the group:

Cynthia and Jim Brown
Our overall impression of the 2020 vintage is "promising."
We were surprised by how many of the wines seemed to be enjoyable now or will be in the very near future.
It's probably no surprise our favourites among the reds were the Château Beychevelle, Château Rauzan Gassies, and Château Lafon Rochet (we found it well-balanced with good but not excessive fruit and the potential for development with a few years in the bottle).
Among the lesser known labels we might seek out the Château d'Aiguilhe and Château Pascaud.
The dry whites : Château Motte Maucourt, Château La Hargue, and Cap Royal (Compagnie Médocaine des Grands Crus) deserve particular mention.
Jennifer Mason
Overall vintage perception:
Right bank wines seemed accessible and red/bright fruity. Many seemed like they will be early drinkers and not for cellaring long term.
Left bank wines very fruit forward but also very structured.
Whites were nice to drink now, and not as much acidity as I would have thought (or preferred).
Favourites or 'would buy': Chateau Rauzan Gassies, Château Beychevelle, Chateau Doisy Daëne, Chateau Couhins, Chateau Brown, Chateau Dalem, Chateau Fonplegade, Chateau Martinat
Chateau Dalem: Lots of fruit, acid, not very tannic. Liked
Chateau Les Combes: woody, acidic, tannins noticeable.
Chateau Fonplegade: fruity, acid. Liked.
Chateau Cadet Le Bon: woody.
Chateau Martinat: Drink now, fruit, astringent tannins. Liked
Chateau Suau: floral, spicy, pepper. 'almost Spanish'
Chateau Rauzan Gassis: fruit, wood, acid. Liked
Chateau Anthonic: woody, bright fruit.
Chateau Beychevelle: dark fruit and fine tannins. A favorite.
Chateau Lafon Rochet: Seemed like structure and fruit are profound.
My top 3: Château Brown, Château Beychevelle, Château Martinat.
Didier Viala
The right bank reds included several delicious wines, with fresh fruit to be drunk and enjoyed soon (including Château Dalem and Château Les Combes).
Favorite right bank reds included Château D'Arguilhe (peppery, black fruit, with significant acid and tannins). Château Suau led to some interesting discussion; some found it to be slightly atypical for Bordeaux. I found it to be an approachable, lovely wine to be enjoyed soon.
Left bank reds were consistently balanced and structured, with closed tannins and high acid. Favorites included Château Brown, Château Rauzin-Gassies, Château Beychevelle and Château Lafon-Rochet.
I found the Château Couhins to be balanced and of very good quality. I really enjoyed the Chai des Bordes Clairet (Maison Cheval Quancard) with its balance, refreshing acidity and delicious fruit.
Zurück zur Liste der Events