Veranstaltungen
the Grand conseil DU VIN DE BORDEAUX
CommanderIES, WINE brotherhoodS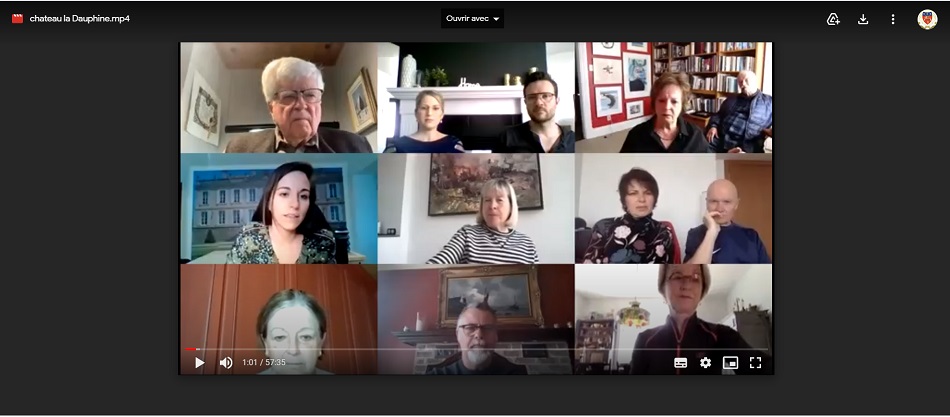 Commanderie
May 6, 2021
Commanderie de Bordeaux in Quebec - meeting Bordeaux winegrowers during the pandemic
A series of Zoom meetings with Bordeaux Winegrowers
Céline Saucier – Maître of the Commanderie de Bordeaux in Quebec
To challenge the lockdown caused by the pandemic and to keep in touch with our members, some very enjoyable meetings with winegrowers enabled the Commanderie de Bordeaux in Quebec to come closer to estate owners all over the Bordeaux region, who presented us their wine estates and the wines they produce.
This project, run via Zoom, was set up with the Grand Cercle des Vins de Bordeaux, whose wines are referenced with the SAQ (Société des Alcools du Québec), thanks to the generous collaboration of Stéphanie Delecrin and Francis Boutemy, who contributed to the success of these meetings.
At a rhythm of one meeting per month, between October 2020 and April 2021, we were able to chat to the following winegrowers :
François Despagne de Château Grand-Corbin Despagne
(http://www.grand-corbin- despagne.com)
Pascal Chatonnet des Châteaux Haut-Chaigneau and La Sergue
(http://www.vignobleschatonnet.com/)
Thierry Valette de Clos Puy Arnaud
(https://www.clospuyarnaud.com/)
Philippe de Poyferré de Château Loudenne
(http://www.chateau-loudenne.com)
Eméric Petit de Château Tournefeuille
(http://www.chateau-tournefeuille.com)
Louise-Aimée Dufour et Denis Collart de Donjon de Bruignac
(https://ladimex.ca/a-propos-de/)
Pierre Delage de Château Lanessan
(https://www.lanessan.com/)
Sylvie Courselle de Château Thieuley
(https://www.thieuley.com/)
Lisa Saunière de Château de La Dauphine (Fronsac)
(https://www.chateau-dauphine.com/)
We would like to thank them all, once again, for the time and the warm welcome they gave us!
Adapting to time differences between our two countries, the webinars were presented on Sundays at 11 am (local time in Quebec), 5 pm (local time in Bordeaux). These meetings were aimed for Commandeurs who had joined within the last two years. However, all the meetings were open to everyone who wanted to participate and, possibly, become a new Commandeur.
As an example, here is a link to an available Replay, the last Zoom meeting in the series, with Lisa Saunière from Château de La Dauphine, in Fronsac.
To watch this Replay, click HERE


Bordeaux toujours Bordeaux!
Zurück zur Liste der Events