Veranstaltungen
the Grand conseil DU VIN DE BORDEAUX
CommanderIES, WINE brotherhoodS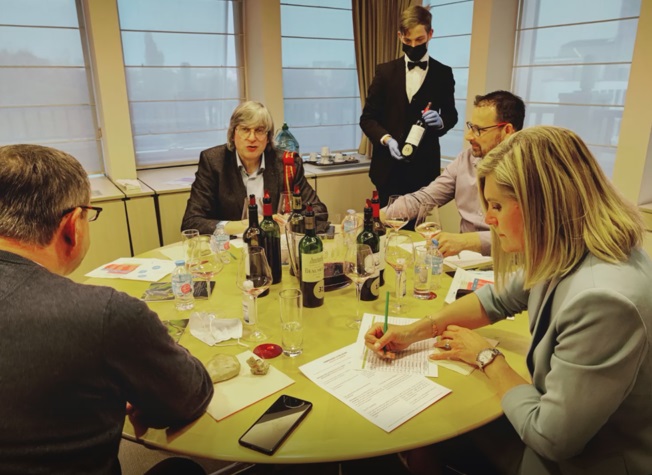 Commanderie
April 30, 2021
"Bordeaux 2020 Vintage Tasting", Commanderie de Bordeaux in Brussels, Friday, 30th April 2021

The Privy Council of the Commanderie de Bordeaux in Brussels : Maître Jacques Blondiau, Isabelle Audouin-Wastin, Thierry Sengier, Michel Alloo and Volker Rokos


An excellent evening tasting of this new Vintage 2020 from Bordeaux was organised on Friday 30th April 2021 in the private reception rooms of the Commanderie in Brussels. In order to comply with all health safety precautions, the tasting followed a well-established protocol with three small groups:
From 6 pm to 7 pm: a first group of 12 people – journalists, importers, sommeliers and an Hotel School professional
From 7 pm to 8 pm: a second group of 12 people – business influencers and wine retailers
From 8 pm to 9 pm: a third group of 10 people – catering industry professionals, as well as wine connoisseurs

Watch the Slide Show video of this tasting below :
After these three stages of tasting, here are some overall impressions about the wines:

- Dry white wines: sun-drenched, the appeal of white-fleshed fruit, a tropical note in the aromas and juicy, fresh body full of flavour, lots of vibrancy.


- Sweet white wines: the 'modern' Loupiac, Côteaux de Lou is well made, with lively, acidulous fruitiness. As for Château Doisy Daëne, always delightful and extremely well balanced.


- The rosé and the clairet wines: we found them interesting, but no surprise.


- The Merlot majority red wines: already round, full-bodied and satin-smooth, while revealing fleshy, delicious notes of red and black fruit, blackberries and cherries shine through, with quite a lot of spicy hints. Wines from the slopes are warm and robust. Château Fontaine stands out with its creamy fruitiness and chewy tannins and Château Dalem, from the Fronsac area, has character, with eucalyptus and menthol hints on the finish.

Château Fonplégade, made by the Adams family in Saint-Emilion, was very popular, with smooth tannin, flavours of cherry and hints of liquorice and vanilla.


- The Cabernet Sauvignon majority red wines from the northern part of the left bank are more difficult to taste at this stage. The tannins are still a little hard, and we can sense they will need more time to mature and soften. An exception with Château Anthonic, much rounder, with a finish that even revealed some sweetness.
Château Beychevelle is really superb. Maybe the new wine cellar is responsible for the great success of this vintage; gorgeous tannins, aromas of black cherry, peony and lilac, with a finish that shows real promise for its ageing potential.
Zurück zur Liste der Events