Veranstaltungen
the Grand conseil DU VIN DE BORDEAUX
CommanderIES, WINE brotherhoodS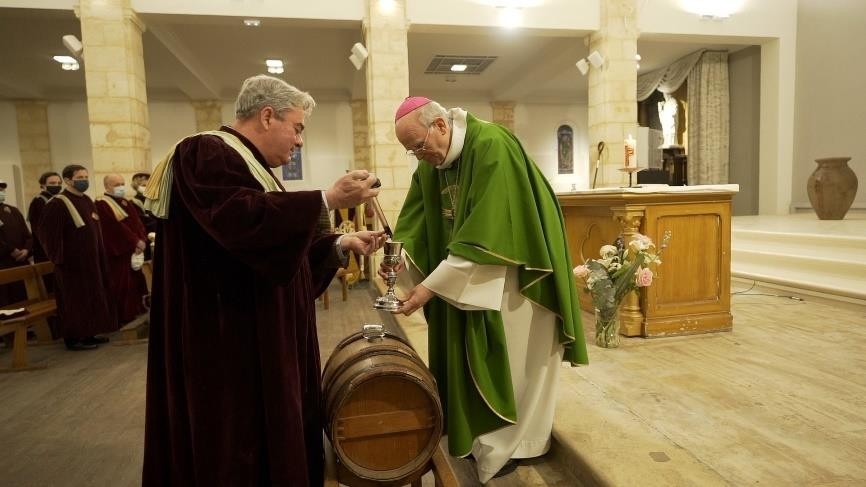 Wine Brotherhood
February 15, 2021
Commanderie du Bontemps - Mass of Saint-Vincent 2021 & wine of the new year blessed - Press Release
The wine of the new year blessed in the church of Saint Remi of Bacalan,
by Monseigneur Jean-Paul James, Archbishop of Bordeaux
This year, the feast day of Saint-Vincent, which celebrates the patron-saint of winegrowers, was not able to create the traditional festive event that normally brings together 700 people in a most convivial atmosphere.
Nevertheless, the Commanderie du Bontemps and its members wished to carry out the new year's blessing, a tradition perpetuated for the past 50 years.
The ceremony, which took place on 27th January 2021, was marked by two very important facts: it was held in the Church of Saint Rémi of Bacalan, recently renovated and established in the Bordeaux wine trade's historical district of the city, and the mass was said by Monseigneur Jean- Paul James, assisted by Father Francis Ayliès.
The feast day of Saint-Vincent
Deacon and martyr of the 4th century, Vincent of Saragrosse is the patron-saint of winegrowers. The feast day celebration of Saint Vincent is held, depending on the year, either in the Médoc, the Graves region, in Sauternes, or even in Bordeaux. Always a warm and friendly occasion, this event brings together men and women who work throughout the year in vineyards, in winemaking facilities, in the various departments of wine estates, Wine Trade firms and Brokerage companies.
The Church of Saint Rémi of Bacalan
Situated just a stone's throw from the Cité du Vin, the Church of Saint Rémi of Bacalan has been renovated. It wishes to show the vast abundance of references to wine in the Bible. Through this "language of parables", the words speak of God, his bond with each one of us, his project for humanity, our faith, our daily life.
Beyond the Christ's words in chapter 15 of the Gospel according to John : "I am the Vine, you are the shoots and my Father is the Winegrower", there are also numerous other references : the cluster of Grapes in the Valley of Eschol, water turned into wine at the marriage in Cana, the exultation of Noah and of life in the Spirit of the Pentecost, the Chalice of the everlasting Covenant of Christ's Blood.
Through these works of art, these biblical texts are presented as invitation to take time for thought. The Church of Saint Rémi will also be a place of cultural expression : singing, acting, reading, concerts and conferences will all be welcome here.
PRESS CONTACT: MCG Communication jtossut@mcg-communication.fr - Telephone 01 41 10 49 49
Commanderie Contact : mms@commanderiedubontemps.fr - Telephone : 05 56 56 30 38 38
Zurück zur Liste der Events