Veranstaltungen
the Grand conseil DU VIN DE BORDEAUX
CommanderIES, WINE brotherhoodS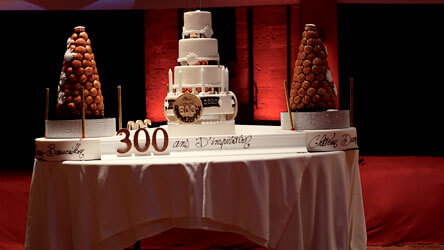 Commanderie
January 29, 2021
Château Ducru-Beaucaillou's 300th Anniversary and a UK E-Tasting
On 7th January 2021, after almost a year 'Co-void' of Commanderie events, more than 160 Commandeurs from all four UK Commanderies, having been generously invited by Bruno Borie, the Président du Directoire of Château Ducru-Beaucaillou, enthusiastically congregated online to participate in this innovative celebration of the Château's 300th anniversary.
Since she had played the leading role on this side of la Manche in the organisation and running of the event, I asked Mimi Avery, a Bristol Commandeur and the Brand Manager of Averys of Bristol, to report on how the event was planned and implemented. This is what she said:
"At just after 11 o'clock, on 11/11, I had a call from Jennie (our buyer) with the following interesting proposal from Patrick Buleon of Louis Vailard, one of our Bordeaux negociants:
"Château Ducru-Beaucaillou is celebrating the 300th anniversary of the property this year. In order to spread the word, M. Borie has just conducted a 2 hour Zoom masterclass and tasting to 300 members of the Commanderie de Bordeaux across 60 cities in the USA and Canada. He would like to do a similar tasting for Commanderie de Bordeaux members in the UK – in Bristol, Manchester, London and Edinburgh.
This followed an investment by the property in a 100ml bottling machine which bottles under nitrogen giving a reasonable shelf life (they are packaged beautifully – the buyers received their Bdx 2019 EP samples this way)."
My Managing Director passed the proposal to me with instructions to lead and implement.
The fact that I was a Bristol Commandeur helped, but since I also knew the Edinburgh branch, and a few Londoners, it was decided that I would broach the subject with the UK Grand Maître Territorial, and sound out the Bristol Maître for thoughts.
By 17th November, the proposal was a 'goer' and the call to arms was issued - but we knew we had to move really quickly – the 300th anniversary being in 2020, the Château wanted the e-tasting to be as soon as possible in 2021. Relevant email addresses were obtained and expressions of interest garnered through the four UK Maîtres and their cellar masters/secretaries. There was a flurry of emails – with a deadline of schedules – and ultimately 167 UK Commandeurs signed up.
The Château team set the date, and said they would send the packs over to arrive just before Christmas. Averys agreed to build a specific page for "invitees only" on our website and take orders for the free packs for delivery after our Christmas cut off – so as not to get them mixed up with the mélange of pre-Christmas last minute general public orders. Moreover, the delivery company would be less inundated and able to take more care of the packages and, with their short shelf life, the closer to the event the bottling took place the safer we were.
By the next day, we already had more than 60 sign-ups – Bristol were straight out of the starting blocks with 30 at close of play on day 1 and the other three Commanderies were remarkably close behind. Edinburgh surprised themselves: "I have never known anything like it! We have had 39 acceptances from our Commandeurs in about 36 hours – it usually takes weeks! Can you cope with 39?".
By 15th December, we had a code, a web page, the ability to sell the product for the "cost of delivery" and by the 17th we had the Zoom invitation from the Château.
On the 22nd, the Château asked me to be the moderator on the night – fielding the Qs&As and on the 23rd we tested the web page – and the three assigned Averys staff members managed to order correctly. The email invitation was sent to the Maîtres of the four UK Commanderies – who disseminated them that instant. We had a slight 'beginning of decade' glitch when orders could not be placed on 1st January – but ultimately it was plain sailing from there on.
The event on the night went incredibly smoothly with some excellent questions …. "
Indeed, it did and in no small way thanks to Mimi and her team at Averys without whom I apprehend that, in the timescale set, the event would not have been possible. Indeed, her performance as moderator was the icing on the cake. We are also most grateful to our American colleagues for testing the prototype; it works – magnifiquement, as our Maîtres attest!
Sue Darwall-Smith (Commanderie de Bordeaux in Bristol)
"The exceptional 300th Anniversary Tasting of the wines of Château Ducru-Beaucaillou, most generously hosted by Bruno Borie, will undoubtedly be remembered by Bristol Commandeurs as a highlight of our year, a spectacular occasion at an otherwise gloomy time in the midst of the Covid pandemic. It was a privilege to taste these wonderful wines."
Peter Russell (Commanderie de Bordeaux in Manchester)
"It was an absolutely splendid tasting. Exceptional wines that were presented to us in a relaxed but highly informative way."
John East (Commanderie de Bordeaux in London)
"A generous gesture from Bruno Borie executed faultlessly. It was a great reminder, in tasting wine together and sharing the pleasure, of how things were – and will be again."
Duncan Menzies (Commanderie de Bordeaux in Edinburgh)
"Who would have thought, mid Covid, we could all have travelled to Bordeaux for the night and have such fun, with delicious wines, lovely music, attentive and generous hosts. It was something we in Edinburgh will always remember."
This was a momentous occasion, principally as an innovative celebration of Château Ducru-Beaucaillou's 300th anniversary but also as being the first occasion on which all four UK Commanderies have come together to participate in a single event. Both those landmarks and the "mythic" 2010 vintage and its outstanding companions, the mature 1982 and 1995 vintages (together with the youthful 2018 vintage and its 2018 companions, Le Petit Ducru and La Croix Ducru-Beaucaillou), will live exceptionally long in the memory of all of us who were fortunate enough to participate. We are all most grateful to M. Borie for his enormous generosity in affording us the opportunity, in such a ground-breaking and resourceful way, to taste these magnificent wines, so perfectly presented in their new slimmed-down livery.
Paul Chedgy
Grand Maître Territorial – Great Britain
You will also find below a selection of lovely photos taken at the 300th Anniversary celebration of Château Ducru-Beaucaillou, held on 29th September 2020 and video by Mr Bruno Borie, who recounts the history behind this estate.
Zurück zur Liste der Events