Veranstaltungen
the Grand conseil DU VIN DE BORDEAUX
CommanderIES, WINE brotherhoodS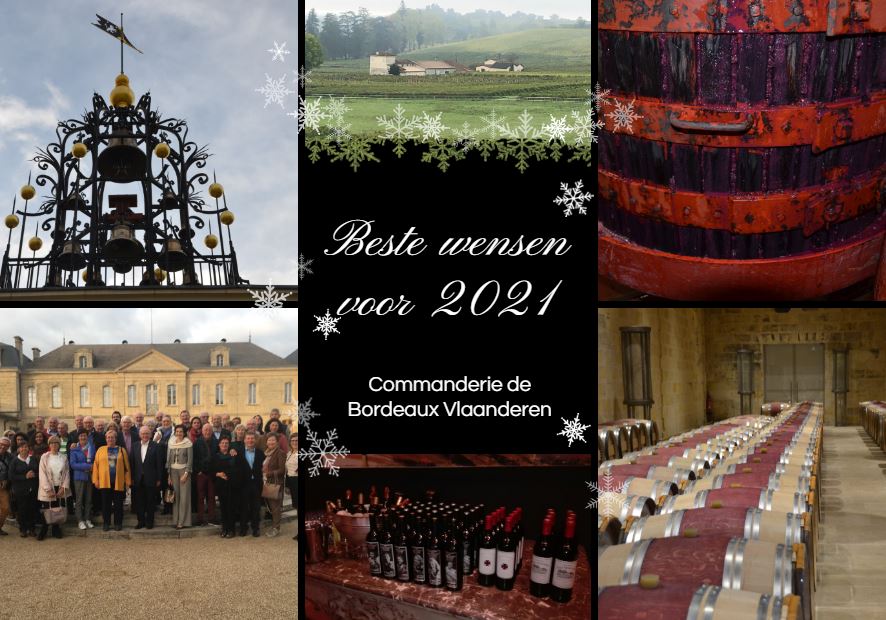 Commanderie
December 18, 2020
Commanderie de Bordeaux in Flanders - Report about activities organised in 2019-2020 & Schedule for 2021
Sunday 20th October 2019 to Thursday 24th October 2019 : a trip to Bordeaux with 40 members of the Commanderie
21st October
• 10.00 Fronsac: tasting at Château Gaby, followed by lunch
• 14.30 Castillon Côtes de Bordeaux at Château d'Aiguilhe
• 16.30 Château Troplong Mondot: tasting
• 20.00 Dinner at the Restaurant L'Atelier de Candale
22nd October
• 10.00 Horizontal tasting with the wine of Association des GCC de Saint-Emilion at Château Villemaurine
• 12.30 Lunch at Château Ripeau
• 16.00 Visit and tasting at Château Cheval Blanc
• 18.00 Château La Dominique visit and tasting
• 19.30 Dinner at the Restaurant Les Terrasses Rouges, at Château Dominique
23rd October
• 10.00 Graves de Vayres: tasting of wines of the appellation at Château Goudichaud
• 14.00 Château La Fleur de Boüard/ Château Angelus: visit and tasting (half group)
• 16.00 Château Angelus/ Château La Fleur de Boüard: visit and tasting (half group)
• 18.00 Château Soutard: visit and tasting
• 19.30 Dinner at Château Larmande
24th October
• 9.30 Château Beauregard: tasting of the wines of Pomerol Séduction:
10 châteaux: Beauregard, Clinet, Clos du Clocher, La Conseillante, Gazin, Mazeyres, Nenin, La Pointe, Rouget et Vieux Maillet
• 11.30 Lunch buffet
Saturday 30th November 2019
Induction ceremony and gala dinner at the restaurant Aards Paradijs, Merendree in présence of the honorary Grand-Maître Francis Boutemy and Mrs Nathalie Escuredo, member of the Privy Council of GCVB Grand Maître of the Ordre des Vignerons des Bordeaux & Bordeaux Supérieurs
Induction of Mr François Despagne, Château Grand Corbin Despagne , Mr Benjamin Vimal, Deputy Manager of Château Lagrange , Mr Michel Ponty ,Château Grand Renouil, Mr Philibert Perrin ,Château Carbonnieux, and Mr Lieven Lootens of the restaurant Aards Paradijs.
Thursday 12th March 2020
Tasting of the wines of Gonzague & Claire Lurton Vineyards, in presence of Mrs Sylvie Vennetier, in charge of public relations, at the restaurant Auberge du Pêcheur, Pontstraat 41, 9831 Sint- Martens-Latem.
Presentation of the 2015 vintage of Châteaux Durfort Vivens, Ferrière and La Gurgue Margaux, Château Haut-Bages Libéral Pauillac and Acaibo Sonoma-county.
Thursday 4th June 2020
Cancellation of the planned event due to the Covid 19 crisis : tasting of the wines of Vignobles Comte von Neipperg, in presence of the owner himself, Stephan Von Neipperg.
Château Canon La Gaffelière (GCC de Saint-Emilion), Château Peyreau (GC de Saint-Emilion), Château d'Aiguilhe (Castillon Côtes de Bx), Château Clos l'Oratoire (GCC de Saint- Emilion) en Château Clos Marsalette (Pessac-Léognan).
Thursday 15th October 2020
Blind tasting in couples of the great vintage 2016 : right bank coordinated by our Vice-Maître HUGO VAN LANDEGHEM , honorary president of the Vlaamse Wijngilde, Chancelier de la Jurade de Saint-Emilion.
November 2020
Cancellation of 'Eat Brussels, drink Bordeaux'
Saturday 5th December 2020
Cancellation of the annual induction ceremony and gala dinner, with a delegation from the Grand Cercle.

Schedule of activities for 2021 "Covid permitting !"
Thursday 4th March 2021
Tasting of Vitisvintage wines at the Auberge du Pêcheur restaurant (Séb. Labails)
Thursday 3rd June 2021
Tasting at Lozen Boer
Saturday 4th December 2021
Induction ceremony and Gala dinner, with the presence of a delegation from the Grand Cercle
On behalf of the Privy Council, Joeri Voet - Chancelier
Bordeaux toujours Bordeaux !
Zurück zur Liste der Events