Veranstaltungen
the Grand conseil DU VIN DE BORDEAUX
CommanderIES, WINE brotherhoodS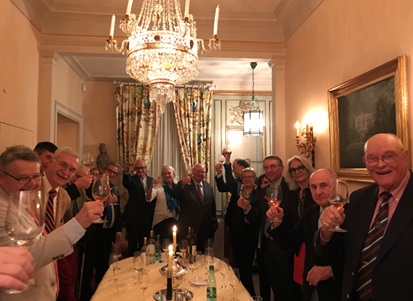 Commanderie
December 7, 2020
Commanderie de Bordeaux in Paris - recalling the 2nd gathering of 2020
This second gathering in 2020 of the Commanderie de Bordeaux in Paris was held at the home of Commandeur Nicholas Brown, in the 7th arrondissement of Paris.
It was a wine tasting – dinner, with a menu created by Chef Justin Terry.
We tasted a selection of wines from our cellar, as well as a Malartic Lagravière red 2010, given by Nicholas, and a Sauternes, Château de Malle 1997, given by Jean.
The wines we tasted :
Whites:
Château Bouscault 2012,
Château des Tourtes 2016,
Château La France 2016,
Château de Fages 2016,
Reds:
Château La Mothe Vincent 2015,
Château Lagrange 2002,
Château Tessendey 2014,
Château Haut Lagrange 2012,
Château Beychevelle 2009,
Château Cassagne Haut Canon 2008,
Château Durfort Vivens 2006,
Château du Tertre 1985,
Château Haut Batailley 1989
Present at this wine tasting evening were 11 Commandeurs and their wives, as well as 6 guests.
This evening was masterfully orchestrated by Nicholas, who received our Commanderie in his magnificent Parisian apartment. We know Nicholas for being both a talented and refined ambassador of Bordeaux wines. So, I would like to coin a phrase he used about that evening:
"For several guests, I think it was quite a new experience to have a "do it yourself" evening reception. It prompted a spirit of friendship that is, ultimately, the main feature of our organisation."
Zurück zur Liste der Events