Veranstaltungen
the Grand conseil DU VIN DE BORDEAUX
CommanderIES, WINE brotherhoodS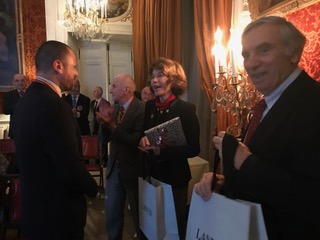 Commanderie
December 7, 2020
Commanderie de Bordeaux in Paris - recalling the 1st grand event of 2020
The first grand event in 2020 of the Commanderie de Bordeaux in Paris took place at the Museum of Hunting and Nature, 60, rue des Archives– 75003 Paris, on 4th February 2020.
The theme of the evening was to discover and celebrate the wines of Château Smith Haut Lafitte. It was truly an exceptional event, in presence of Florence and Daniel Cathiard, who gave us a wonderful tasting of their white and red wines; first, second and third wines in several vintages (2012, 2010, 2015, 2015, 2017, 2018, 2016).
The tasting took place in the reception rooms, after our General Meeting and was followed by dinner, to conclude our evening at 11.30 pm. Our guests of honour were of course Florence and Daniel Cathiard. The Maître and his wife Kikuko were accompanied by 20 Commandeurs and 3 guests.
What a splendid evening for this first grand event of the year! We all thoroughly enjoyed the exceptional tasting in the form of a Master Class presented by Florence and Daniel Cathiard, owners and managers of Château Smith Haut Lafitte in Pessac-Léognan. Everything was perfect, both in terms of organisation and the pace of the evening. The dishes were exceptional and congratulate Chef Bruno Deligne who succeeded in matching his cuisine with the great vintages.
The wines of Château Smith Haut Lafitte served to accompany this marvellous dinner were:
Les Hauts de Smith white 2018
Château Smith Haut Lafitte white 2011
Château Smith Haut Lafitte red 2006 and 2011
Zurück zur Liste der Events