Veranstaltungen
the Grand conseil DU VIN DE BORDEAUX
CommanderIES, WINE brotherhoodS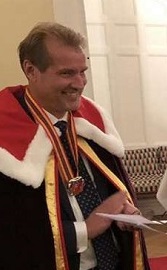 The Grand Conseil du Vin de Bordeaux
November 3, 2020
Commanderie de Bordeaux in Stockholm - Annual General Meeting 2020
The Maître, Jens Miöen, opened the session of the Annual General Meeting of the Commanderie de Bordeaux in Stockholm, on 16th September 2020.
The meeting was announced to be in compliance with the statutes and the Agenda of the meeting was approved.
The Maître was appointed to chair the meeting.
Appointment of Göran af Klercker as recorder.
Appointment of Emmanuel Rothan as actuary.
The Maître presented the annual report for 2019, which was approved by the assembly.
The annual fee contribution was also approved by the assembly.
The annual assembly gave authority to the Privy Council.
Jens Miöen was appointed as Maître for the next financial year.
Göran af Klercker was re-appointed.
Unfortunately, Cecilia Ekfeldt is resigning from the Privy Council and leaving the Commanderie. A new member will be inducted shortly.
The new members are as follows : Nils Ingvar Lundin, Gunnar Nordgren et Lena Eklöf.
Sadly, Sophie Maillard has also decided to leave the Commanderie.
Cecilia will continue to assist the Commanderie thanks to her contacts at the Embassy and at Business France.
Due to Covid 19 restrictions, the annual dinner will be postponed, probably until springtime 2021.
Johan Magnusson told us about his first visit to Bordeaux, in spring this year.
Blind tests were held (thank you Ann) and we had some interesting discussions.
Here is the list of wines tasted during our annual meeting :
A.R Lenoble Champagne Grand Cru 1990
Blanc-de-blancs Château Cantemerle Haut-Médoc Grand Cru, 2012
Château de Pressac, Saint-Emilion Grand Cru, 2011
Château Beychevelle, Saint-Julien Grand Cru, 2010
Zurück zur Liste der Events