Veranstaltungen
the Grand conseil DU VIN DE BORDEAUX
CommanderIES, WINE brotherhoodS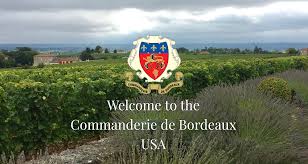 Commanderie
August 28, 2020
Board Meeting of the US Commanderies, August 28th 2020
Larry Pitts, Grand Chancelier, informs us that the Board Meeting of the US Commanderies will be held on Friday 28th August 2020.
The Grand Maître of the Grand Conseil du Vin de Bordeaux, Hubert de Boüard de Laforest, will attend this meeting via videoconference.
John Koch will report on expansion.
Lynn Lathrop and Kelleen Hubbs will talk about Awards and Education Activities.
Rick Currey and Kelleen Hubbs will give a report on Virtual Tastings, process and results.
Doug Bryant, Echanson, will give a short presentation about the programme organised by the Grand Conseil du Vin de Bordeaux, in collaboration with the Bordeaux Wine School, to present the Bordeaux 2019 Vintage, via a collection of 5 Webinars especially produced for all the Commanderies and a series of Tasting Events held within 12 Commanderies around the world.
"Bordeaux 2019 Tastings: … Thirty samples were air freighted to the participating Commanderies and the tasters submitted their findings to the GCVB. The reports and the list of wines tasted along with photos can be seen on the GCVB Events web page : click HERE
After reviewing the reports, the overall opinion of the 2019 vintage was "very good to excellent!"
The U.S. Commanderies that participated were: Saint-Louis, Denver, Atlanta, San Francisco, Boston and Cleveland.
Each Commanderie used COVID-19 safe protocols to conduct their tasting.
I would like to personally thank our participating Commanderies, the Grand Conseil and everyone else involved for making this event successful."
David Morgan will present the interim Financial Report
Eric Vogt, Grand Maître of the US Commanderies, will present a forthcoming event to celebrate the 300th Anniversary of Château Ducru Beaucaillou, with owner Bruno Borie, on October 24th 2020.
A discussion will be held with the US Commanderies to find out how they have functioned during the COVID 19 crisis.
Various Commanderies will present their future plans for the years to come.
Zurück zur Liste der Events