Veranstaltungen
the Grand conseil DU VIN DE BORDEAUX
CommanderIES, WINE brotherhoodS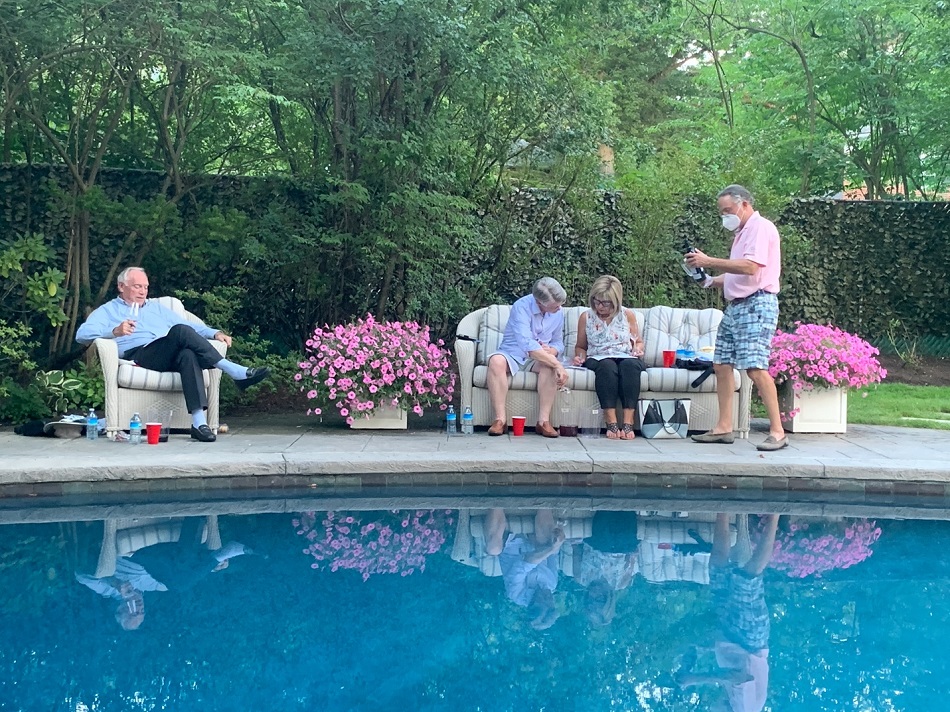 Commanderie
July 27, 2020
Bordeaux 2019 Vintage Tasting - 7th July 2020 - Commanderie de Bordeaux in Cleveland
Bordeaux 2019 Vintage Tasting, en Primeur
Commanderie de Bordeaux in Cleveland - Grand Conseil du Vin de Bordeaux
On July 7th, 2020, twelve Commandeurs assembled at the home of Maître Randy Marcus to taste the thirty samples of 2019 wines provided by the Grand Conseil du Vin de Bordeaux.
Due to COVID-19 concerns, the tasting was held in the Marcus's lovely backyard with tasters appropriately distanced surrounding a pool. Individual cheese plates and bottles of water were provided to each participant, and the casual format led to spirited discussion and evaluation of these enjoyable wines.
The wines were divided into six flights:
1. White (five wines)
2. Crémant – Clairet – Rosé (five wines)
3. Red – Various AOCs (six wines)
4. Red – Graves & Médoc (seven wines)
5. Red – Libournais (six wines)
6. Sweet (two wines)
To avoid palate fatigue, the Commandeurs were divided into two groups. Group A tasted Flights 1 and 4, half of Flight 3 and one of the sweet wines. Group B tasted Flights 2 and 5, half of Flight 3, and one of the two sweet wines.
Tasters were given the opportunity to comment on the wine's balance, leading fruit notes, and general observations.
The Tasting
After tasting through the wines, there was general agreement that they all showed exceptionally well, given their youth and the rigors of their long journey to Cleveland. What impressed our group the most was the freshness and accessibility of these wines at this stage.
The white wines exhibited a lovely depth of flavors, balanced by refreshing acidity, while the reds showed exceptional balance and good structure. Most of the wines should drink well early, yet also have enough structure for intermediate to longer term aging. Many of the properties were new to our members and should present good buying opportunities upon release.
Tasting Notes on our Favorite wines
Château Rioublanc, Crémant de Bordeaux
Citrus and green apple overtones. Lively aperitif to begin the evening. Paired well with the cheese and fruit plate.
Château Domi-Cours, "Vitae", Bordeaux Blanc
Sauvignon Blanc with balanced acidity and grapefruit aromas. Refreshing on a warm summer evening.
Cuvee Clémence, Cheval Quancard, Entre-Deux-Mers Blanc
Sauvignon Blanc dominant wine with lemon/citrus notes and woody, new oak aromas.
Château Crabitey, Graves Blanc
Ripe fruit on the nose with notes of citrus, apricots, and white flowers. Good balance and finish.
Château Faugas, Cadillac Côtes de Bordeaux
Red fruits with some black currant. Nice, spicy/herbal notes with bell pepper aromas from the Cabernet Franc.
Château Haut-Gayat, Graves de Vayres
Well balanced with dark fruit, plums, spice and toast. Polished, round tannins.
Château Siran, Margaux
Wonderful complex nose with black fruit, currants, cocoa and tobacco. Well balanced with good acidity and ripe, elegant tannins.
Château Pédesclaux, Pauillac
Very good wine with blue fruits, currants, some savory herbs and tobacco. Great balance with chewy tannins – should improve nicely with time.
Château Grand Corbin, St. Émilion
Red and black fruits, excellent balance of fruit, acidity, and silky, smooth tannins. This wine has a good future.
Château de Myrat, Sauternes
Lovely wine with apricot, pineapple, and lemon curd on the nose. Well balanced and elegant – would make a nice pairing with a savory shellfish or roast poultry dish.
Many thanks to Randy and Katy Marcus for their hospitality in hosting this tasting, as well as our sincere appreciation to the Grand Conseil du Vin de Bordeaux for this unique opportunity for the Cleveland Commandeurs to be able to preview what promises to be a wonderful vintage for Bordeaux wines.
Bordeaux, toujours Bordeaux!
Liste des 30 échantillons de vin:
Château Turcaud 2019 AOC Bordeaux Bordeaux Clairet
Château Domi Cours Vitae 2019 AOC Bordeaux Bordeaux Blanc
Château de Pertignas 2019 AOC Bordeaux Bordeaux Rosé
Rioublanc Crémant 2019 AOC Crémant de Bordeaux
Emotion Château La Freynelle 2018 AOC Bordeaux rouge
Château Siran 2019 AOC Margaux
Château Pedesclaux 2019 AOC Pauillac Grand Cru Classé
Château Maurac 2019 AOC Haut-Médoc Cru Bourgeois
Château Caroline 2019 AOC Haut-Médoc
Château Cap LéonVeyrin 2019 AOC Listrac-Médoc
Château Latour-Martillac 2019 AOC Pessac-Léognan Rouge Grand Cru Classé de Graves
Château Roquetaillade La Grange 2019 AOC Graves Rouge
Château Crabitey 2019 AOC Graves Blanc
Château de Myrat 2019 AOC Sauternes - Grand Cru Classé en 1855
Château Loupiac- Gaudiet 2019 AOC Loupiac
Château Gaby 2019 AOC Canon-Fronsac
Château La Cabanne 2019 AOC Pomerol
Château Saint-Georges 2019 AOC Saint-Georges Saint-Emilion
Château Franc le Maine 2019 AOC Saint-Emilion Grand Cru
Château Grand Corbin 2019 AOC Saint-Emilion Grand Cru Classé
Château de Pitray AOC Castillon Côtes de Bordeaux 2019
Château Haut-Gayat 2019 AOC Graves de Vayres
Château Faugas 2019 AOC Cadillac Côtes de Bordeaux
Château de Francs 2019 AOC Francs Côtes de Bordeaux
Château des Tourtes 2019 AOC Blaye Côtes de Bordeaux
Citran 2019 Maison Ginestet AOC Bordeaux Rosé
Ginestet 2019 Maison Ginestet AOC Bordeaux Blanc
Cuvée Clémence 2019 Cheval Quancard AOC Entre-Deux-Mers Blanc
Mauvais Garçon 2019 SAS Thunevin AOC Bordeaux rouge
Bord'Art 2019 MT Vins AOC Bordeaux Rosé
Zurück zur Liste der Events