Veranstaltungen
the Grand conseil DU VIN DE BORDEAUX
CommanderIES, WINE brotherhoodS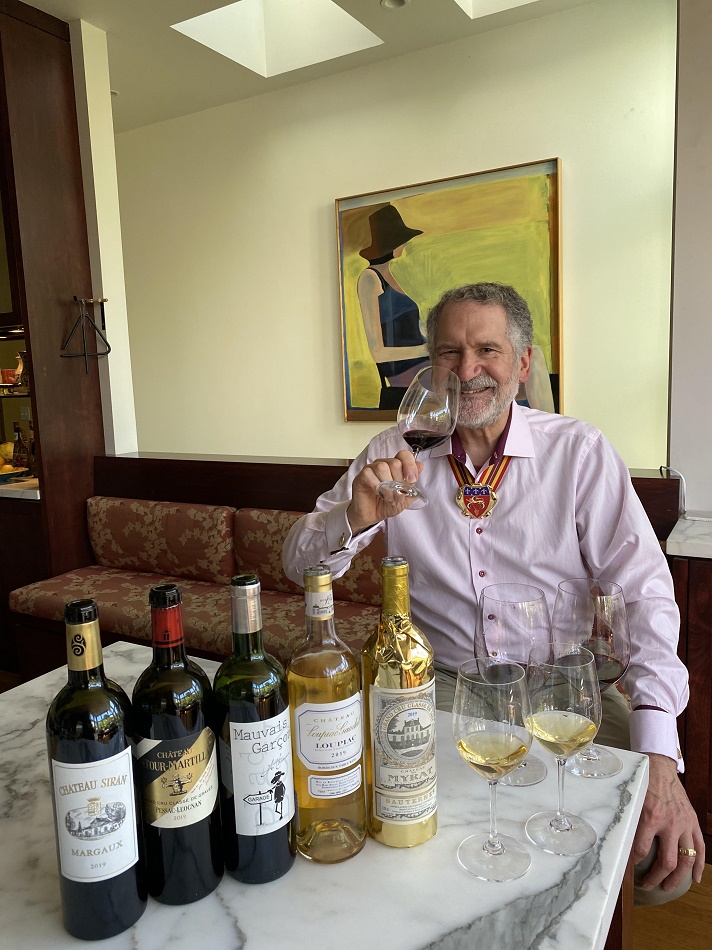 Commanderie
July 20, 2020
Bordeaux 2019 Vintage Tasting - Commanderie de Bordeaux in San Francisco - 12th July 2020
Commanderie de Bordeaux in San Francisco – Grand Conseil du Vin de Bordeaux
Bordeaux 2019 Vintage En Primeur Virtual Tasting - Thursday 12th July 2020
Chuck Horn, Maître
Commanderie de Bordeaux in San Francisco
"We found the 2019 vintage to be absolutely delightful!
Without exception the Bordeaux White (Sauvignon Blanc based) wines were elegant and fantastic wines.
Among the red wines we tasted, the Merlot component was especially successful; the more Merlot in the blend, the more we liked the wine.
Our general conclusion is that the 2019 vintage in Bordeaux, from all parts of Bordeaux, is a great vintage. The wines are delicious, and they have the balance and structure to age gracefully for 10 to 20 years, at least.
At the same time, we found the 2019 Bordeaux generally very approachable and drinkable now, with nice tannin structure that will allow these wines to age gracefully, and will provide more pleasure in the years to come.
Bordeaux, toujours Bordeaux "

Some notes on the wines we liked best:
• Citran (rosé) : very pleasant and refreshing. Pale melon color. Very appealing strawberry flavor with enough acid and minerality to keep the palate fresh and make you want another sip.
• Cuvée Clemence : Pleasing and distinctive "oiliness" present on nose and palate. White pears with jus de poire...and a dash of white pepper... We really like this wine.
• Château Roquetaillade-La Grange : Quite oaky, but dark fruits also... This wine was the most mouth-filling, with red-black fruits holding up to big tannins and minerality. My favorite
• Château Siran: Bright purple color, fruit and acid well-balanced, a nice big generous wine… Delicious with the steak we had for dinner 2 hours after the tasting.
• Château Latour-Martillac: Has the lovely minerality expected of its terroir, well balanced, great structure.
• Mauvais Garçon: Looks dark and deep. Rich and delicious on the palate. Lots of dark berries. Long finish. Beautifully balanced.
• Château de Myrat: An elegant clear expression of Sauternes.
List of the 30 wine samples:
Château Turcaud 2019 AOC Bordeaux Bordeaux Clairet
Château domi Cours Vitae 2019 AOC Bordeaux Bordeaux Blanc
Château de Pertignas 2019 AOC Bordeaux Bordeaux Rosé
Rioublanc Crémant 2019 AOC Crémant de Bordeaux
Emotion Château La Freynelle 2018 AOC Bordeaux rouge
Château Siran 2019 AOC Margaux
Château Pedesclaux 2019 AOC Pauillac Grand Cru Classé
Château Maurac 2019 AOC Haut-Médoc Cru Bourgeois
Château Caroline 2019 AOC Haut-Médoc
Château Cap LéonVeyrin 2019 AOC Listrac-Médoc
Château Latour-Martillac 2019 AOC Pessac-Léognan Rouge Grand Cru Classé de Graves
Château Roquetaillade La Grange 2019 AOC Graves Rouge
Château Crabitey 2019 AOC Graves Blanc Graves
Château de Myrat 2019 AOC Sauternes - Grand Cru Classé en 1855 Graves
Château Loupiac- Gaudiet 2019 AOC Loupiac
Château Gaby 2019 AOC Canon-Fronsac
Château La Cabanne 2019 AOC Pomerol
Château Saint-Georges 2019 AOC Saint-Georges Saint-Emilion
Château Franc le Maine 2019 AOC Saint-Emilion Grand Cru
Château Grand Corbin 2019 AOC Saint-Emilion Grand Cru Classé
Château de Pitray 2019 AOC Castillon
Château Haut-Gayat 2019 AOC Graves de Vayres
Château Faugas 2019 AOC Cadillac Côtes de Bordeaux
Château de Francs 2019 AOC Francs Côtes de Bordeaux
Vin'Ature - Château des Tourtes 2019 AOC Blaye Côtes de Bordeaux
Citran 2019 Maison Ginestet AOC Bordeaux Rosé
Ginestet 2019 Maison Ginestet AOC Bordeaux Blanc
Cuvée Clémence 2019 Cheval Quancard AOC Entre-Deux-Mers Blanc
Mauvais Garçon 2019 SAS Thunevin AOC Bordeaux rouge
Bord'Art 2019 MT Vins AOC Bordeaux Rosé
Zurück zur Liste der Events