Veranstaltungen
the Grand conseil DU VIN DE BORDEAUX
CommanderIES, WINE brotherhoodS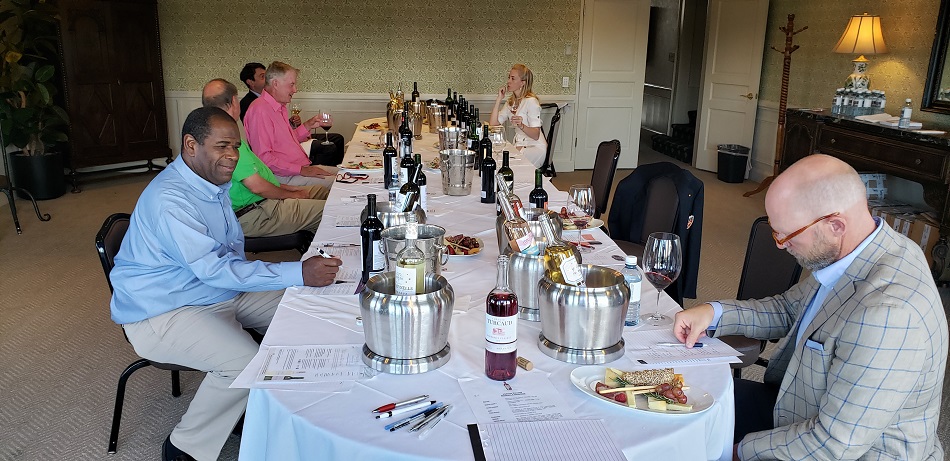 Commanderie
July 15, 2020
Bordeaux 2019 Vintage Tasting -9th July 2020 - Commanderie de Bordeaux in Denver
Commanderie de Bordeaux in Denver - Grand Conseil du Vin de Bordeaux
Bordeaux 2019 Vintage Tasting - Thursday 9th July 2020
Maître Clifton Louis tells us that a group of seven expert tasters, members of the Commanderie de Bordeaux in Denver, met at the Denver Country Club on Thursday 9th July 2020 from 6pm, to hold the Bordeaux 2019 Vintage Tasting.

This tasting even was a great success! The group comprised of Richard Tolley, Jerry Wrench, Greg Wrench, Brooke Schiffner, Jacquelyn TerHar, Henry Gordon and Michael Banks tasted and evaluated all Bordeaux thirty wine samples.
They found that all the wines were much more approachable at this early stage than any had expected. Most wines had a great sense of freshness and many will be ready to drink wonderfully very early on. They considered the red wines simply outstanding, showing a lot of backbone and strength, but even so very, very approachable, with tremendous freshness. Most of the red wines will be ready to savour soon.
The 2019 vintage will not require years of cellaring before the optimal drinking window opens.
The Commanderie de Bordeaux in Denver thought that the thirty wine samples they received was a truly great selection of wines!
Here are the wines they picked out as their favourites and some of their comments:
Chateau Caroline
Fruit forward, well balanced. Great nose, very pleasant, enjoyed this wine very much.
Chateau Louplac-Gaudiet
A light floral nose and honey sweetness. On the palate very sweet, but a very pleasant Loupiac.
Chateau Franc le Maine
Floral nose. Complex and well balanced. WOW! Tannis are slightly light, but still very good balance for this wine.
Citran - Maison Ginestet
A very light peach colour, almost transparent. White Peach aromas. Very dry on the palate, with very little residual sugar. Light and fresh. An outstanding rosé wine!
Mauvais Garcon - SAS Thunevin
A nose of dark fruits and fig, with hints of vanilla. Showing stong tannins, but not overpowering. Well balanced. It would benefit from 3 to 5 years bottle ageing, but it will be a fabulous wine! It is already great to drink now. This is a Big wine!
List of the 30 wine samples:
Château Parenchere AOC Bordeaux Clairet
Château Le Grand Verdus AOC Bordeaux Blanc
Château Le Grand Verdus AOC Bordeaux Rosé
Lateyron Crémant AOC Crémant de Bordeaux
Cabernet Sauvignon Château La Freynelle 2018 AOC Bordeaux Rouge
Château Siran 2019 AOC Margaux
Château Pedesclaux 2019 AOC Pauillac Grand Cru Classé
Château Maurac 2019 AOC Haut-Médoc Cru Bourgeois
Château Caroline 2019 AOC Haut-Médoc
Château Cap LéonVeyrin 2019 AOC Listrac-Médoc
Château Latour-Martillac 2019 AOC Pessac-Léognan Rouge Grand Cru Classé de Graves
Château Roquetaillade La Grange 2019 AOC Graves Rouge
Château Crabitey 2019 AOC Graves Blanc
Château de Myrat 2019 AOC Sauternes - Grand Cru Classé en 1855
Clos Jean 2019 AOC Loupiac
Château Gaby 2019 AOC Canon-Fronsac
Château La Cabanne 2019 AOC Pomerol
Château Saint-Georges 2019 AOC Saint-Georges Saint-Emilion
Château Franc le Maine 2019 AOC Saint-Emilion Grand Cru
Château Grand Corbin 2019 AOC Saint-Emilion Grand Cru Classé
Château de Pitray AOC Castillon Côtes de Bordeaux 2019
Château Haut-Gayat 2019 AOC Graves de Vayres
Château Faugas 2019 AOC Cadillac
Château de Francs 2019 AOC Francs
Vin'Ature - Château des Tourtes 2019 AOC Blaye
Citran 2019 Maison Ginestet AOC Bordeaux Rosé
Ginestet 2019 Maison Ginestet AOC Bordeaux Blanc
Cuvée Clémence 2019 Cheval Quancard AOC Entre-Deux-Mers Blanc
Mauvais Garçon 2019 SAS Thunevin AOC Bordeaux Rouge
Bord'Art 2019 MT Vins AOC Bordeaux Rosé
Zurück zur Liste der Events