Veranstaltungen
the Grand conseil DU VIN DE BORDEAUX
CommanderIES, WINE brotherhoodS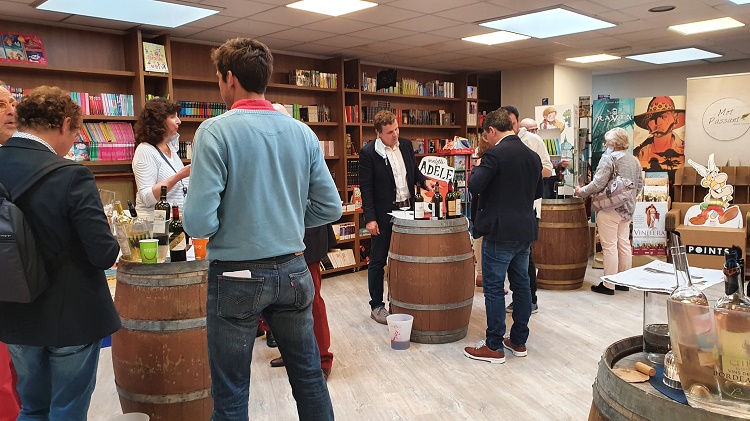 Commanderie
4th July 2020
July 10, 2020
"Bordeaux 2019 Vintage Tasting" - Commanderie de Bordeaux in Brussels
"Bordeaux 2019 Vintage Tasting"
Commanderie de Bordeaux in Brussels – Grand Conseil du Vin de Bordeaux
Saturday 4th July 2020
The Commanderie de Bordeaux in Brussels held its "Bordeaux 2019 Vintage Tasting" on Saturday 4th July 2020, between 2pm and 6pm, in an unusual and cultural setting, the "Mot Passant" Bookshop in Brussels.
This tasting was combined with the launch of an illustrated book about Primeurs wines and the presentation of books on the theme of Bordeaux wines.


Fifty or so guests were able to attend this event to discover the 2019 Vintage in Bordeaux. A personal passport was issued to each one and a time slot for wine tasting allocated, in order to comply with health safety measures.
Among the guests, a starred sommelier, professionals from the hotel and restaurant sector, wine journalists and wine connoisseurs. The Commanderies of Bordeaux in Flanders and Wallonia were represented by their Maître and numerous members of the Commanderies de Bordeaux in Brussels also took part in this large tasting event.
The list of 30 wine samples tasted:
Château Boutinet 2019 AOC Bordeaux Clairet
Château Le Grand Verdus AOC Bordeaux Blanc
Château Le Grand Verdus AOC Bordeaux Rosé
Lateyron Crémant AOC Crémant de Bordeaux
Emotion Château La Freynelle 2018 AOC Bordeaux Rouge
Château Siran 2019 AOC Margaux
Château Pedesclaux 2019 AOC Pauillac Grand Cru Classé
Château Maurac 2019 AOC Haut-Médoc Cru Bourgeois
Château Caroline 2019 AOC Haut-Médoc
Château Cap LéonVeyrin 2019 AOC Listrac-Médoc
Château Latour-Martillac 2019 AOC Pessac-Léognan Rouge Grand Cru Classé de Graves
Château Roquetaillade La Grange 2019 AOC Graves Rouge
Château Crabitey 2019 AOC Graves Blanc
Château de Myrat 2019 AOC Sauternes - Grand Cru Classé en 1855
Clos Jean 2019 AOC Loupiac
Château Gaby 2019 AOC Canon-Fronsac
Château La Cabanne 2019 AOC Pomerol
Château Saint-Georges 2019 AOC Saint-Georges Saint-Emilion
Château Franc le Maine 2019 AOC Saint-Emilion Grand Cru
Château Grand Corbin 2019 AOC Saint-Emilion Grand Cru Classé
Château de Pitray AOC Castillon Côtes de Bordeaux 2019
Château Haut-Gayat 2019 AOC Graves de Vayres
Château Faugas 2019 AOC Cadillac Côtes de Bordeaux
Château de Francs 2019 AOC Francs Côtes de Bordeaux
Vin'Ature - Château des Tourtes 2019 AOC Blaye Côtes de Bordeaux
Citran 2019 Maison Ginestet AOC Bordeaux Rosé
Ginestet 2019 Maison Ginestet AOC Bordeaux Blanc
Cuvée Clémence 2019 Cheval Quancard AOC Entre-Deux-Mers Blanc
Bad Boy 2019 SAS Thunevin AOC Bordeaux Rouge
Bord'Art 2019 MT Vins AOC Bordeaux Rosé
Zurück zur Liste der Events