Veranstaltungen
the Grand conseil DU VIN DE BORDEAUX
CommanderIES, WINE brotherhoodS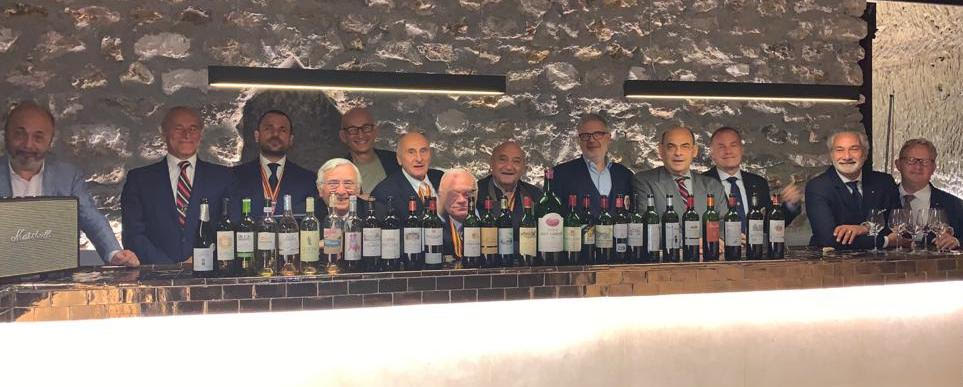 Commanderie
June 30, 2020
Bordeaux 2019 Vintage Tasting - 23rd June 2020 - Commanderie de Bordeaux in Paris

Bordeaux 2019 Vintage Tasting – Tuesday 23rd June 2020
Henri Guiraud – Maître of the Commanderie de Bordeaux in Paris
The Grand Conseil du Vin de Bordeaux, Caroline Delaroche and Anne-Marie Capdemourlin,
sent us 30 samples of 2019 Primeurs so that we could hold a tasting to discover this fine Vintage. The Commanderie de Bordeaux in Paris was the first of the twelve Commanderies worldwide to schedule their date: Tuesday 23rd June 2020.
The 30 wine samples are listed at the end of this article. It is a wide selection of wines, including sparkling, clairet, rosé, dry white, sweet white and red wines, from the appellations of Bordeaux-Bordeaux Supérieurs, Médoc, Graves, Sauternes, Saint-Emilion, Pomerol, Fronsac, Côtes de Bordeaux and also wines from the Bordeaux Wine Trade.
The services of an accredited Wine Tutor from the CIVB Bordeaux Wine School, Franck Ramage (www.kira-consultants.com), were made available to guide us and give comments for this Bordeaux 2019 Vintage Tasting, part of which was broadcast live via Zoom.
13 members of the Commanderie accepted the invitation. We met at the Chais de France at 6pm on Tuesday 23rd June 2020. Jean de la Porte des Vaux kindly prepared all the samples for this 2019 Tasting.
To accompany our tasting, a selection of roasted and cold meats, as well a splendid cheese platter from an award-winning French craftsman.
The tasting of the 30 Primeurs 2019 wine samples was a strenuous task, requiring our mental and physical efforts! This event was a success, however, thanks to the professionalism of our accredited Bordeaux Wine School tutor, Franck Ramage.
The firm favourites of the Commanderie de Bordeaux in Paris tasting were: firstly, the Wine Trade rosé, Citran from the Maison Ginestet and secondly Clos Jean, AOC Loupiac.
Tasters fully enjoyed the freshness and fruitiness of the dry white wines.
In the red wines, we found a fine classical style for Château Grand Corbin, Château Latour-Martillac, Château Pedesclaux, Château de Pitray, Château Siran... We noted great winemaking for Château La Cabanne, Château St-Georges and Château Caroline. We had some lovely suprises with Wine Trade wines, particularly Bord'Art rosé and Bad Boy…
To sum up, the 30 samples are all very well made wines, a superb vintage; some preferences and personal tastes were mentioned here and there. Overall, the tannins are nicely melt-in-the mouth for Primeurs red wines, allowing us to assess the very good ageing potential of these wines.
This 2019 Bordeaux Vintage Tasting was a superb occasion for the Commanderie de Bordeaux in Paris, as we await our next Banquet and Induction ceremony planned for 13th October 2020.
With best regards,
Henri.
Henri Guiraud – Maître of the Commanderie de Bordeaux in Paris.
PS: Here are a few photos of our evening, including a nice "family" snap.
List of the 30 wine samples
Château Boutinet 2019 AOC Bordeaux Clairet
Château Croix de Queynac 2019 AOC Bordeaux Blanc
Villa Gaubert 2019 AOC Bordeaux Rosé
Lisennes Crémant 2019 AOC Crémant de Bordeaux
Cabernet Sauvignon Château La Freynelle 2018 AOC Bordeaux Rouge
Château Siran 2019 AOC Margaux Médoc
Château Pedesclaux 2019 AOC Pauillac Grand Cru Classé
Château Maurac 2019 AOC Haut-Médoc Cru Bourgeois
Château Caroline 2019 AOC Haut-Médoc
Château Cap LéonVeyrin 2019 AOC Listrac-Médoc
Château Latour-Martillac 2019 AOC Pessac-Léognan Rouge Grand Cru Classé de Graves
Château Roquetaillade La Grange 2019 AOC Graves Rouge
Château Crabitey 2019 AOC Graves Blanc Graves
Château de Myrat 2019 AOC Sauternes - Grand Cru Classé en 1855
Clos Jean 2019 AOC Loupiac
Château Gaby 2019 AOC Canon-Fronsac
Château La Cabanne 2019 AOC Pomerol
Château Saint-Georges 2019 AOC Saint-Georges Saint-Emilion
Château Franc le Maine 2019 AOC Saint-Emilion Grand Cru
Château Grand Corbin 2019 AOC Saint-Emilion Grand Cru Classé
Château de Pitray 2019 AOC Castillon
Château Haut-Gayat 2019 AOC Graves de Vayres
Château Faugas 2019 AOC Cadillac
Château de Francs 2019 AOC Francs
ViN'Ature de Château des Tourtes 2019 AOC Blaye
Citran 2019 Maison Ginestet AOC Bordeaux Rosé
Ginestet 2019 Maison Ginestet AOC Bordeaux Blanc sec
Cuvée Clémence 2019 Cheval Quancard AOC Entre-Deux-Mers Blanc
Bad Boy 2019 SAS Thunevin AOC Bordeaux Rouge
Bord'Art 2019 MT Vins AOC Bordeaux Rosé
Zurück zur Liste der Events