Veranstaltungen
the Grand conseil DU VIN DE BORDEAUX
CommanderIES, WINE brotherhoodS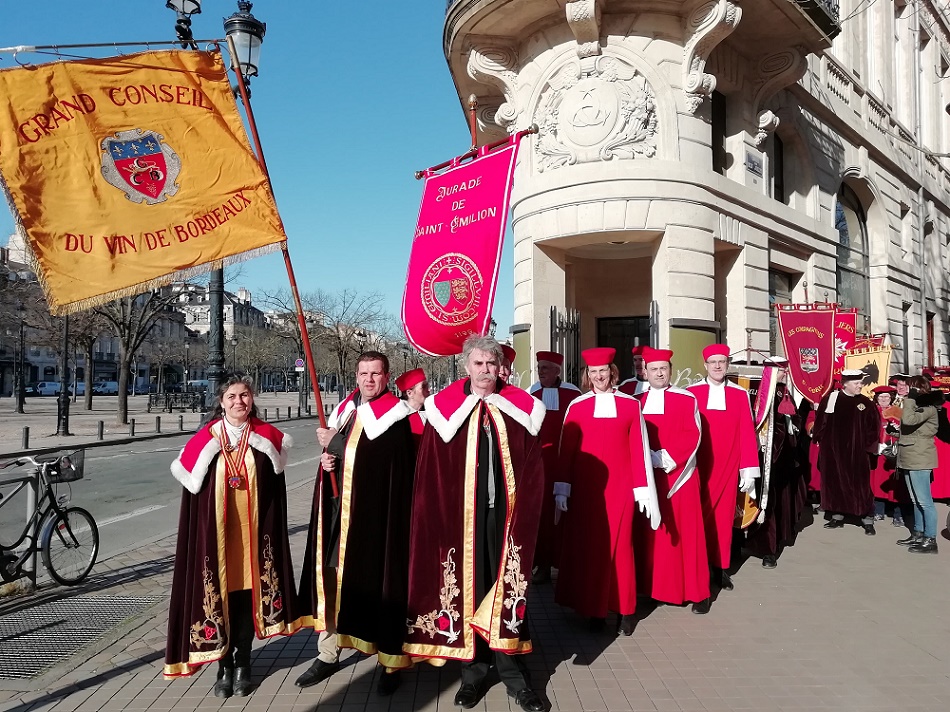 The Grand Conseil du Vin de Bordeaux
January 20, 2020
Ceremony of New Year's Wishes to the Mayor of Bordeaux - 20th January 2020
On Monday 20th January 2020, the Grand Conseil du Vin de Bordeaux and the Bordeaux Wine Brotherhoods presented their best wishes for the New Year 2020 to the Mayor of Bordeaux, Mr Nicolas Florian. A procession led by the Vice Grand Maître of the Grand Conseil du Vin de Bordeaux, Mr Hubert Burnereau and followed by the representatives of the various Bordeaux Wine Brotherhoods left the CIVB at the end of the morning morning to make its way through the streets of the city of Bordeaux, before entering the Main Courtyard of the Palais Rohan, Bordeaux's City Hall.
The Bordeaux Wine Brotherhoods present in the procession: La Jurade de Saint-Emilion, La Commanderie du Bontemps Médoc & Graves-Sauternes & Barsac, Les Compagnons de Bordeaux, Les Hospitaliers de Pomerol, Les Baillis de Lalande de Pomerol, La Connétablie de Guyenne des Premières Côtes de Bordeaux & de Blaye Côtes de Bordeaux, et l'Ordre des Vignerons des Bordeaux Bordeaux-Supérieurs.
The Mayor of Bordeaux and members of the City Council received the delegation of the Grand Conseil at City Hall. A speech to present to the Mayor and his team best wishes for this new year, was given by the Vice Grand Maître of the Grand Conseil, representing Mr Hubert de Boüard de Laforest, the Grand Maître, who was absent following a minor ski accident. In turn, after having presented his warmest wishes for the New Year, the Mayor of Bordeaux reassured winegrowers that he is the leading Ambassador of Bordeaux wines. He emphasized the economic importance of Bordeaux wines; this industry employs more than 65 000 people in the region. Around the world, Bordeaux's image remains strong; a bottle of Bordeaux wine is purchased every 21 seconds. Bordeaux wine is one of the essential factors of Bordeaux's heritage.
After the New Year's wishes ceremony, guests were invited to a cocktail buffet held in the reception rooms of the Palais Rohan.
Zurück zur Liste der Events