Veranstaltungen
the Grand conseil DU VIN DE BORDEAUX
CommanderIES, WINE brotherhoodS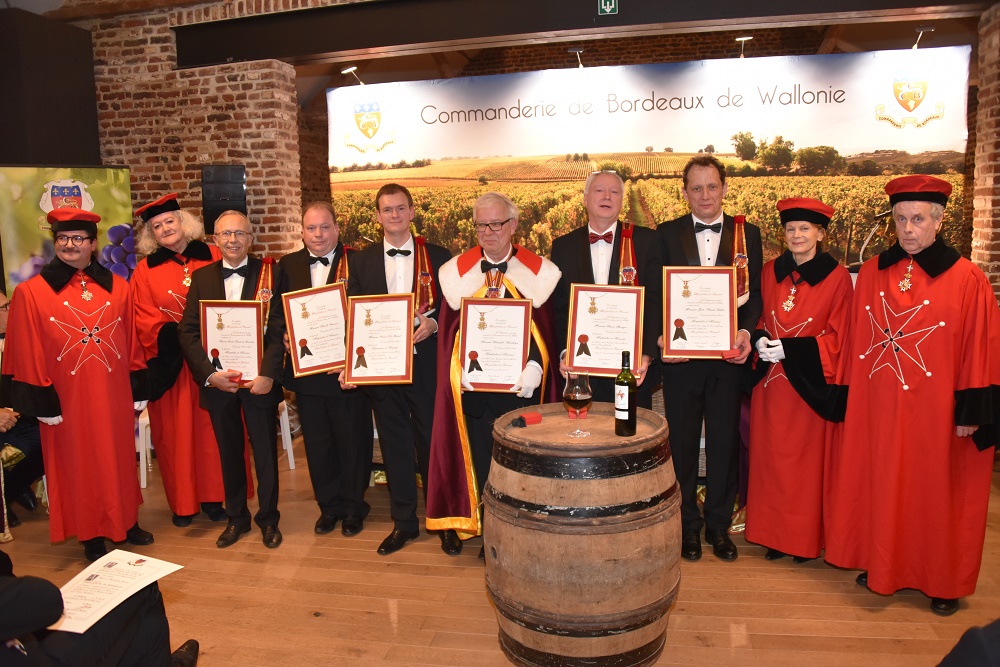 Commanderie
December 7, 2019
Commanderie de Bordeaux in Wallonia, Annual Autumn Event, in presence of the Hospitaliers de Pomerol, 7th December 2019
Mr Christophe Waterkeyn, Maître of the Commanderie de Bordeaux in Wallonia informs you that the 9th Autumn Induction Ceremony of his Commanderie was held on Saturday 7th December 2019, at Château de l'Ardoisière in Jodoigne, in presence of the Hospitaliers de Pomerol.
Mr Hubert Burnereau, Vice Grand Maître of the Grand Conseil du Vin de Bordeaux, travelled to Belgium for this occasion and enhanced for our greatest pleasure our induction ceremony and Gala evening. We see him in the photo with Mrs Inès de Baillencourt (Château Gazin) and Mrs Dominique Vayron (Château Bourgneuf).
Four Hospitaliers de Pomerol travelled to Wallonia for this ceremony and evening reception: Mr Luc Nebout, the Grand Maître, Mme Vayron from Château Bourgneuf, Mme Inès de Baillencourt from Château Gazin and Mr Rivière from Château La Croix Taillefer.
Six Commandeurs were inducted by the Hospitaliers de Pomerol:
Christophe Waterkeyn
Olivier De Weerdt
Harold François
Olivier Monoyer
Benoît Linard de Guertechin
Jean-Claude Gallois
A Gala dinner was held after the inductions, for 150 guests.
Zurück zur Liste der Events