Veranstaltungen
the Grand conseil DU VIN DE BORDEAUX
CommanderIES, WINE brotherhoodS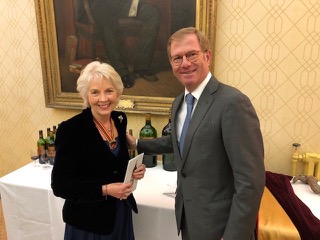 Commanderie
November 18, 2019
Commanderie de Bordeaux in Bristol - Emmanuel Cruse of Château d'Issan 14th October 2019
We were delighted and honoured to welcome Emmanuel Cruse from Château d'Issan to Bristol for our annual Tasting and Dinner in memory of the late John Avery MW. The event was held in the Clifton Club in Bristol on 14th October 2019. Over 50 people, Commandeurs and their guests enjoyed a tasting of the magnificent wines of Chateau d'Issan followed by dinner accompanied by additional vintages of Issan. Three members of John's family were present. They were very touched by Emmanuel's kindness and generosity.
A new member of our Commanderie was intronised before the tasting.
It was a great privilege to learn directly from Emmanuel about each wine and the history of the century's old family chateau.
It was a superb evening in memory of John Avery.
Susan Darwall Smith - Maître, of the Commanderie de Bordeaux in Bristol
Zurück zur Liste der Events