Veranstaltungen
the Grand conseil DU VIN DE BORDEAUX
CommanderIES, WINE brotherhoodS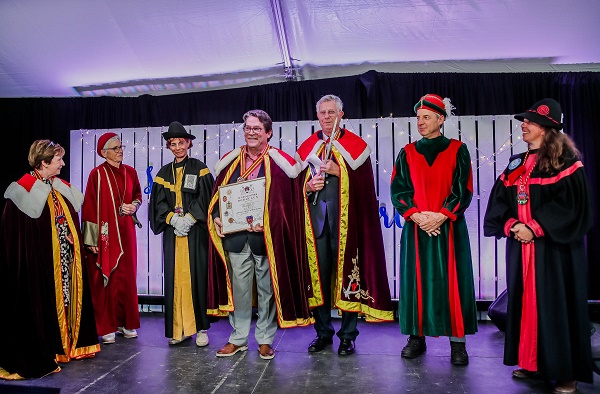 The Grand Conseil du Vin de Bordeaux
September 2, 2019
Bordeaux Wine Festival in Quebec, from 22nd to 25th August 2019
Bordeaux Wine Festival in Québec, 5th event from Thursday 22nd to Sunday 25th August 2019
Francis Boutemy, Grand Maître du Grand Conseil du Vin de Bordeaux, travelled to Canada accompanied by members of the Bordeaux Wine Brotherhoods and Commanderies, to take part in the 5th event of Bordeaux Wine Festival in Quebec.
On Thursday 22nd August an official Inauguration ceremony was held for the Bordeaux Wine Festival in Quebec, in presence of Régis LABEAUME, Mayor of Quebec, Nicolas FLORIAN, Mayor of Bordeaux, Stéphan DELAUX, Deputy Mayor of Bordeaux responsible for Tourism and President of Bordeaux's Tourist Information and Congress Board. At this occasion, a ceremony to induct three leading professionals as Honorary Ambassadors of Bordeaux wines was carried out by Francis Boutemy, Grand Maitre of the Grand Conseil du Vin de Bordeaux:
• Sophie D'Amours – Chancellor of the University of Laval since April 2017
• Claude Doré – Deputy Managing Director of Finance and Marketing for Quebec's Summer Festival and 3 E – event – experience - emotion
• Yvan Ouellet – joint owner of the restaurant Le Quarante 7 in Quebec, since 1996
On Friday 23rd August, the Bordeaux Wine Festival continued its festivities and at 5.30 pm Terroir and Taste Buds Classes centred on the theme "The treasures of the Médoc, variation on various vintages" were held in the Bordeaux Wine School Pavillion.
In the evening of 24th August, at the Cruise Terminal, a grand Gala evening for the Bordeaux Wine Festival in Quebec was held, with the backing of the Saint-Emilion's Great Growth wines to which one hundred guests were invited.
This splendid evening reception was concluded by a firework display.
And lastly, from 5 pm on Sunday 25th August, a huge tasting event named "Tchin-Tchin" (Cheers, to your good health) was open to the general public.
Photo credit : Guillaume Bonnaud
Zurück zur Liste der Events