Veranstaltungen
the Grand conseil DU VIN DE BORDEAUX
CommanderIES, WINE brotherhoodS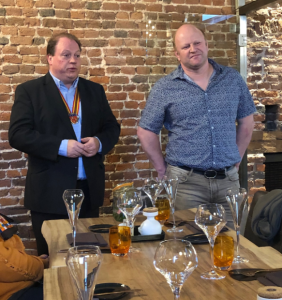 Commanderie
April 27, 2019
Commanderie de Bordeaux in Wallonia - Wine Tasting event with Damien Briard
On 27th April 2019, fifteen members of the Commanderie in Wallonia met at the D'Arville restaurant in Assesse, in a reception room reserved for the Commanderie, to discover the wines of Damien Briard accompanying a menu worthy of a gala banquet.
In 1990, Damien Briard spent two months with another Belgian, Stéphane Defraine, from Château Fontenille. In 1991, Damien settled in France, obtained an HND (Higher National Diploma) in oenology, took a trip to South Africa and then entered the Faculty of Oenology in Reims. Then he offered his services to increasingly prestigious wine estates (27 châteaux in 10 years). His broad experience strengthened his desire to make wines that do not have excessive structure and less woodiness, the type of wines we find in Pomerol or Saint-Emilion.
The adventure of Agape begain in 2005, with 4 hectares of vines planted on the Quinsac plateau, in the Côtes de Bordeaux appellation. It was only in 2008 that he obtained the authorisations to build his wine cellar.
Agape, represents 8 hectares of vines planted in three villages. Ripening on a limestone-gravelly or clay-limestone terroir, Merlot, Cabernet Sauvignon and Malbec are used for the blend of the red and rosé wines; Sémillon, Sauvignon Gris and Sauvignon Blanc for the white.
The average annual production for Agape is approximately 40 000 bottles.
Zurück zur Liste der Events