Veranstaltungen
the Grand conseil DU VIN DE BORDEAUX
CommanderIES, WINE brotherhoodS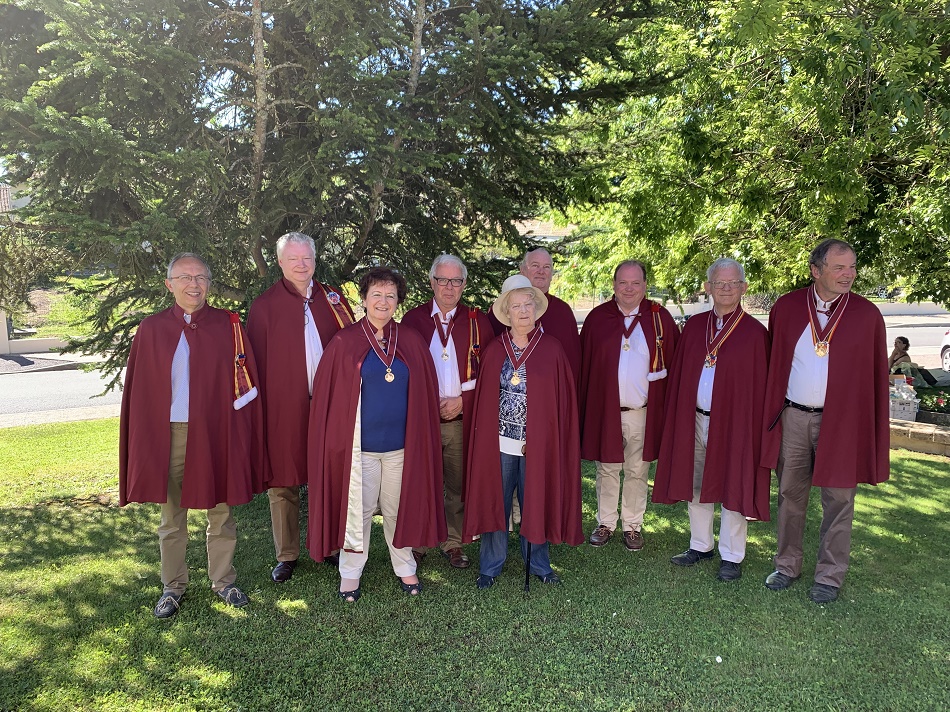 Commanderie
June 11, 2019
Commanderie de Bordeaux in Wallonia - Trip to the Lalande de Pomerol appellation
Maître of the Commanderie de Bordeaux in Wallonia, Christophe Waterkyn, shares with us his message concerning the marvellous trip his Commanderie made to the Bordeaux winegrowing region, specifically to the Lalande de Pomerol appellation, at the end of the month of May and beginning of June.
"As concerns the Baillis de Lalande de Pomerol and the Wine Syndicate, we can proclaim loud and clear that the Induction Ceremony & Gala Banquet at Château Siaurac where we were invited as guests and the third full day of our stay, was truly a sacred experience filled with powerful emotions that only pure beings can find and take possession of to the depth of their heart, like the Holy Grail of our Commanderie, relentless ambassadors of Bordeaux wine and of the wine of Lalande-de-Pomerol.
The Baillis de Lalande asked us to join them. The reason is quite simple: at present we have 8 Honorary Baillis who were among the participants of our trip to Bordeaux. So why not integrate them into the Fête de la Fleur in Lalande, in the procession, at the mass, in the parade along the road of the village, during the induction ceremony at the town hall, and then all day under the arbours and among the winegrowers from all over the appellation present that day to celebrate the flowering of the vine and their flower, symbol of the AOP, the rose of Lalande, on this first day of the month of June.
A special thank you to the Baillis and to the Wine Syndicate of Lalande de Pomerol, as they created the magic of this trip and made our dreams come true during the three days of our trip."
For the fourth time, the Privy Council of the Commanderie de Bordeaux in Wallonia prepared a full and varied trip to the Bordeaux region, this time in 2019 in Lalande de Pomerol Appellation. The two key words for this exceptional trip can indisputably be summed up as QUALITY and FRIENDSHIP… the quality of the wines and vintages of Lalande de Pomerol wines and the friendship given so freely by the winegrowers of the appellation.
During the three marvelous days of the stay, the group from the Commanderie de Bordeaux in Wallonia were received for visits-tastings and delicious meals at various châteaux of the Appellation: Château Belles-Graves, by Xavier Piton, Château Perron by Béatrice and Michel-Pierre Massonie, Château des Annereaux, by Dominique Hessel, Château Haut-Goujoun by Corinne and Liliane Garde and Château Moncets. A superb guided visit of the village of Saint-Emilion was enjoyed, with the monolithic church and the catacombs. The group also had the pleasure of visiting the Moulin des Grandes Vignes.
If you would like to read all the details about the Commanderie de Bordeaux in Wallonia's trip to the Lalande de Pomerol Appellation, please visit the Blog: https://commanderiedebordeauxdewallonie.wordpress.com/
Zurück zur Liste der Events