Veranstaltungen
the Grand conseil DU VIN DE BORDEAUX
CommanderIES, WINE brotherhoodS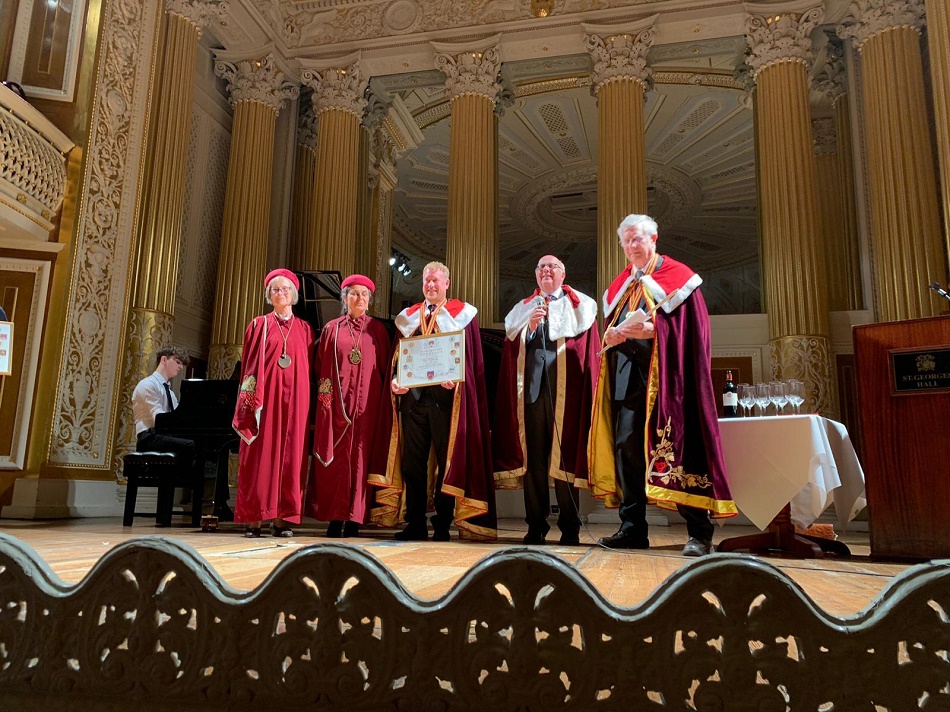 The Grand Conseil du Vin de Bordeaux
June 18, 2019
Bordeaux Wine Festival in Liverpool, May 2019
To launch the Bordeaux Wine Festival in Liverpool, on Thursday 30th May 2019, the Mayor of Liverpool, Joe Anderson and the Deputy Mayor of Bordeaux, Stephan Delaux hosted an evening of fine wine and exquisite food in The Concert Room at St George's Hall in Liverpool.
An official inauguration ceremony took place during this superb evening during which Francis Boutemy, Grand Maître of the Grand Conseil du Vin de Bordeaux, inducted three more Honorary Ambassadors of Bordeaux wine: Sarah DONOHER, Nigel WILKINSON and Ronan SAYBURN
Bordeaux Wine Festival in Liverpool : wine and a football championship cup!
Held jointly with the Liverpool River Festival
From 31st May to 2nd June 2019, 33 Bordeaux professionals (winegrowers, wine merchants, tourism representatives) established their stands along the quayside of the Mersey River in Liverpool. A festive atmosphere and very good result for this event: no less than 20 000 tastings of Bordeaux wines were counted during these three days of the festival.
The Bordeaux Wine Festival was held for the second year running, serving 20 000 tastings of Bordeaux wines to British visitors. The festival was cut short on Saturday evening though, because Liverpool had won the Champions' League cup and fans swarmed in to the city celebrate the victory…
The Bordeaux Wine Festival in Liverpool was comprised of seven pavilions, each one dedicated to the various categories of Bordeaux wines: Bordeaux & Bordeaux supérieur / Côtes de Bordeaux / Médoc / Saint-Emilion - Pomerol – Fronsac / Graves – Sauternes / Bordeaux Rosés, White Bordeaux, Entre-Deux-Mers, Crémants de Bordeaux / Sweet Bordeaux.
A Bordeaux Wine School pavilion offered training activities for visitors to discover Bordeaux wines, including a workshop celebrating the 30th anniversary of the creation of the School. 1 000 people came for training sessions over the three days of the festival.
Lastly, a "Selection UK" pavilion completed the range of wines available for tasting at the festival: a selection of one hundred wines, of good quality and value, selected by blind tasting by British professionals and sold locally at reasonable prices.
France-England, Bordeaux-Liverpool: a partnership that seemed so obvious. Focused on its docks, with an abundance of culture, the city of Liverpool was not chosen by chance. It has many similarities with Bordeaux and the two cities aim to create bonds that go beyond the world of wine.
Zurück zur Liste der Events