Veranstaltungen
the Grand conseil DU VIN DE BORDEAUX
CommanderIES, WINE brotherhoodS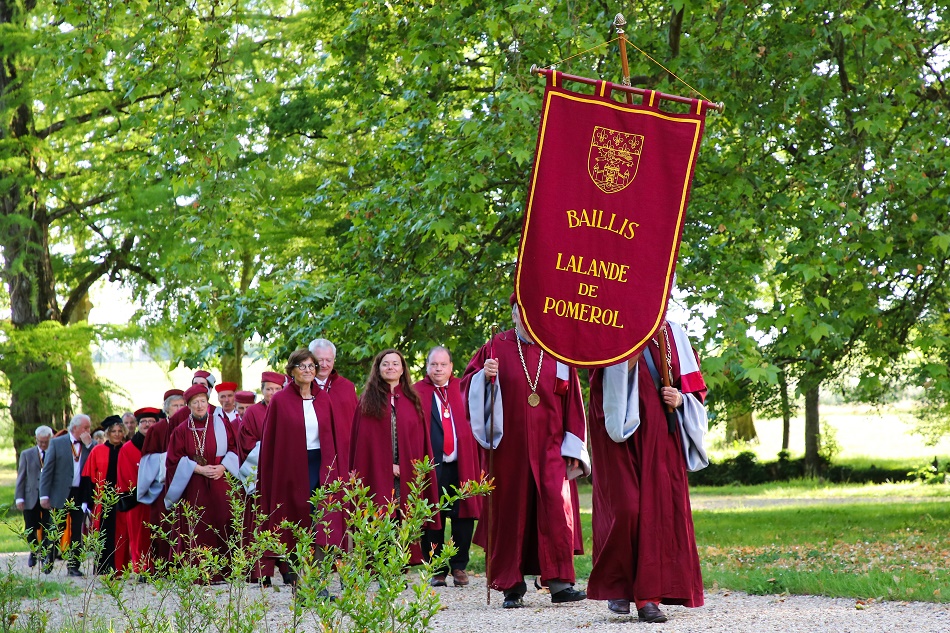 Wine Brotherhood
June 4, 2019
Les Baillis de Lalande de Pomerol - Grand Annual Induction Ceremony & Gala Dinner
The First Bailli de Lalande de Pomerol, the President of the Wine Syndicate and the Baillis de Lalande de Pomerol held their main Annual Event, la Fête de la Fleur, on Thursday 30th May 2019 at Château Siaurac in Néac, in presence of members of the Commanderie de Bordeaux in Wallonia (Belgium).
The schedule for this splendid evening event:
7 pm: Guests are welcomed
7.15 pm: Induction Ceremony
8.30 pm: Gala Dinner served in the orangery of the Château
At this occasion eight people were inducted:
Robert CHARLTON (Australian)
John WENNESTERN (Australian)
Camille DESVEAUX (author of numerous books, Libourne Historian, President of OPPAL…)
Catherine DUBREUIL (Publisher of books about wine and gastronomy at Sud-Ouest Publications)
Isabelle FAYE (sales representative at Rivercap capsules)
Thierry HERNANDEZ (Insurance broker for AXA)
Pierre LE HONG (freelance graphic designer, creation of 3 D maps of AOCs and châteaux…) Quentin SALINIER (photographer at the Sud-Ouest Groupe and Girondins de Bordeaux Football club)
From the Commanderie de Bordeaux in Wallonia, five people also received an induction:
Muriel BOUTE
Martin CASEY
Baronne Clary de COMBRUGGHE de LOORINGHE
Paul DELLICOUR
Bernard HEMELEERS
Members of the Commanderie de Bordeaux in Wallonia arrived on Wednesday 29th May for a stay in the region, with the aim of discovering the wines of Lalande-de-Pomerol. Numerous visits & tastings were scheduled at wine estates, as well as a visit to the village of Saint-Emilion, a village famous for its fine wines, but its gastronomy too…The members of the Commanderie de Bordeaux in Wallonia left on Sunday 2nd June, delighted by their visit.
Zurück zur Liste der Events