Veranstaltungen
the Grand conseil DU VIN DE BORDEAUX
CommanderIES, WINE brotherhoodS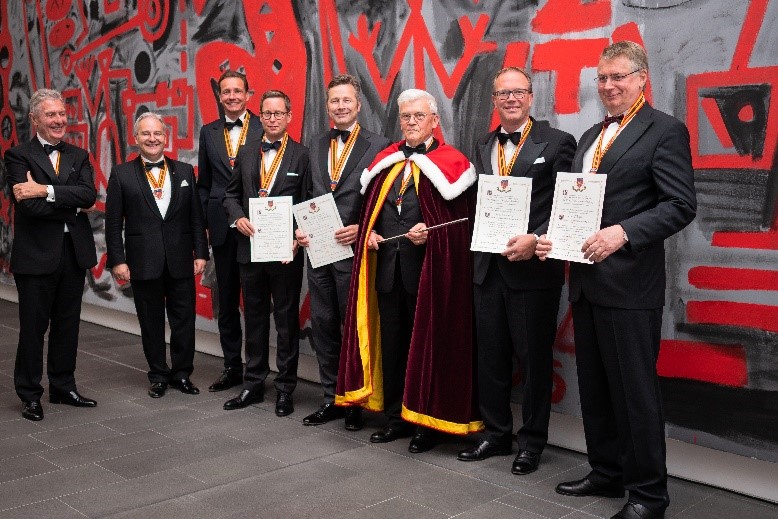 Commanderie
November 21, 2022
Commanderie de Bordeaux in Essen - annual Grand Chapitre, October 21st 2022
Maître Dr. Herbert Lütkestratkötter
The Commanderie de Bordeaux à Essen celebrated its annual Grand Chapitre on October 21st 2022 at the Küppersmühle Museum in Mülheim.
It was a unique privilege to hold this event in an exhibition hall of a museum surrounded by world class art. The Commanderie of Bordeaux in Essen enjoyed this privilege together with 90 guests at this year's Grand Chapitre.
The director of the museum, Professor Walter Smerling, introduced both the collection and the current temporary exhibition to the visitors before they all attended a Gala Dinner, accompanied by outstanding wines from the Châteaux Baron Philippe De Rothschild S.A., presented by Hervé Gouin Commercial Director Châteaux - Mouton Rothschild / Clerc Milon / d'Armailhac and the Commanderie's Vinothéquaire Markus Del Monego.
During the ceremony, four new members were inducted. They received their membership certificates and were presented with the medal of the Commanderie.
Hervé Gouin and Markus Del Monego during their presentation of Bordeaux wines.
Maître Dr. Herbert Lütkestratkötter and the Board Members of the Commanderie proudly welcoming four new members.
Maître Dr. Herbert Lütkestratkötter and Vinothéquaire Markus Del Monego thanking Hervé Gouin for the presentation of his outstanding wines and Professor Walter Smerling for the unique opportunity of holding the Grand Chapitre 2022 in the Küppersmühle Museum.
Some of the evening's excellent bottles ready for decanting, in front of works of art by Anselm Kiefer.
Zurück zur Liste der Events