Veranstaltungen
the Grand conseil DU VIN DE BORDEAUX
CommanderIES, WINE brotherhoodS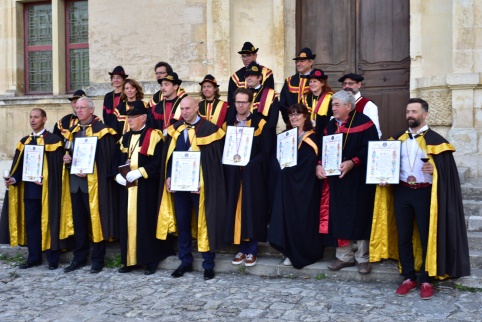 Wine Brotherhood
Events in 2019
January 6, 2019
La Connétablie de Guyenne en Premières Côtes de Bordeaux et Cadillac
The ODG ( Management and Protection Organisations) of Bordeaux's sweet white wine appellations took part in two studies carried out in 2018 by the ISVV (Institute for Sciences of the Vine & Wine). The first presentation was given at Vinitech in November 2018.
A new conference was scheduled on FRIDAY 18th JANUARY 2019 at the Cadillac Wine House from 4.30pm to 6.30pm
Subjects:
- Bordeaux Sweet white wines: between aromatic quality and the crisis in consumption, what sensorial characteristics should be given priority?
- Are UNESCO cultural Landscapes, a territorial resource?
Recent work carried out by the Institute of Sciences of the Vine and Wine concerning sensorial studies and experimental economy with consumers for various characteristics of sweet white wines was presented at this conference. A review was given about the phenomenon of botrytisation as the factor which amplifies the aromatic component of sweet white wines. Then Catherine Arteau, Honorary President of "Barde du Label" and Presdient of the Foundation "Terroir des Paysages Culturels" (Terroir of Cultural Landscapes) gave a presentation of the project for listing landscapes as part of UNESCO's World Heritage sites.
Schedule:
4.30pm: results of the ISVV's studies (1hour)
5.30pm: Listing of landscapes by UNESCO (45 mins)
6.15pm: Question time (15 mins)
7th and 8th March 2019, from 10.30 am to 5.30 pm
Annual tastings of the three most recent vintages, held in the main reception room at the Cadillac Wine House
5th April 2019 at 11.00 am
20th anniversary of the Wine House
From May to August 2019
The Wine House and its museum area
open every day from 10.30 am to 1.00 pm and from 2.30 pm to 7.00 pm
25th April 2019
"Cadillac Tour" in wine cellars and wine bars, starting on 17th October 2019 in Bordeaux, to finish in 2020 in Lille.
La Connétablie de Guyenne des Cadillac Côtes de Bordeaux
Spring time event with induction ceremony & banquet
17th May 2019
Autumn event with induction ceremony & banquet
7th September 2019
8th and 9th June 2019
Open Days in the appellation
Zurück zur Liste der Events