Veranstaltungen
the Grand conseil DU VIN DE BORDEAUX
CommanderIES, WINE brotherhoodS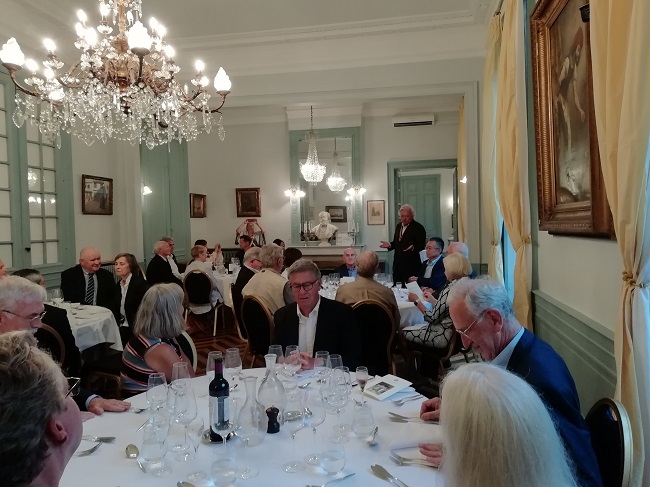 The Grand Conseil du Vin de Bordeaux
September 17, 2021
Day 1 : "Welcome for Commandeurs" Programme, from 15th to 17th September 2021
The Grand Conseil du Vin de Bordeaux
The members of the Grand Conseil's Board of Directors (the Grand Maître Hubert de Boüard, Caroline Delaroche, Anne-Marie Capdemourlin, Nathalie Escurédo, Jean-Marc Dulong, Henrique da Costa, Francis Boutemy and Hubert Burnereau), were delighted to receive a group of 24 people, Maîtres, Commandeurs and Accompanying Guests, for a 3-day Programme organised in Bordeaux and the winegrowing region.
Our 24 participants for this Programme were the following:




Day 1


Wednesday 15th September 2021
Bassins de Lumière – at the submarine base in Bordeaux

6 pm: Visit to the digital exhibition "Monet, Renoir, and Chagall: Journeys around the Mediterranean"


The "Welcome for Commandeurs" Programme began at the end of Wednesday afternoon, by a visit to the submarine base in Bordeaux, with the Bassins de Lumière exhibition: "Monet, Renoir, and Chagall: Journeys around the Mediterranean". It presents visitors with an itinerary that spans the period between Impressionism and modernism. This new digital exhibition highlights the link between artistic creativity and the Mediterranean shores, as the principal centres of the modernist movement.
The exhibition immerses visitors in the masterpieces of twenty artists: Renoir, Monet, Pissarro, Signac, Derain, Vlaminck, Dufy, and Chagall, amongst others. In the 1880s, the Mediterranean attracted many artists: abandoning Paris and the northern regions, they flocked to the southern shores, between Collioure and Saint-Tropez.