Veranstaltungen
the Grand conseil DU VIN DE BORDEAUX
CommanderIES, WINE brotherhoodS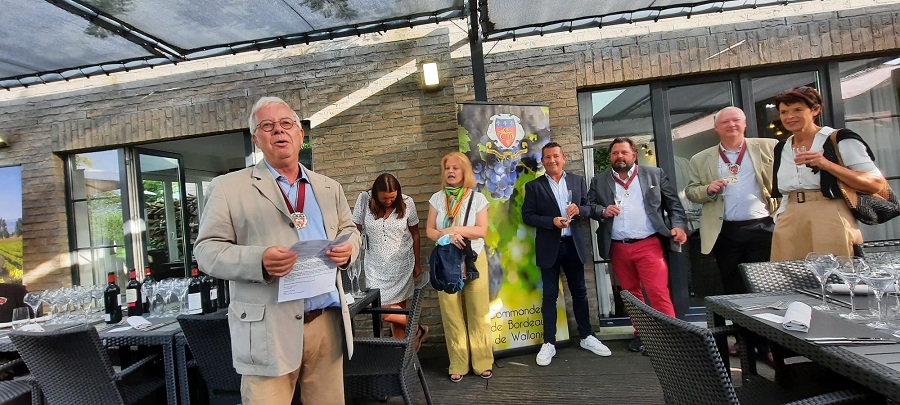 Commanderie
August 23, 2021
Commanderie de Bordeaux in Wallonia - 28th July 2021 - Tasting event with AOC Lalande de Pomerol
Introduction
Nathalie DIFFI
From the Lalande de Pomerol Wine Syndicate
"A little look back on our visit to the Commanderie de Bordeaux in Wallonia, in esteemed company : Maître Christophe Waterkeyn and his Commandeurs received us admirably, for our first meeting since 2020. We were welcomed at a bastion of Brabant gastronomy, the "Une autre Histoire" Restaurant, with chef Benoit Helleputte at the helm. It was an occasion to taste the well-known wines of the vineyard of the Abbey of Villers-en-Brabant.
A special bond has been formed between Maître Christophe Waterkeyn, his Commandeurs and the winegrowers of the Lalande de Pomerol appellation. It was an honour for our two representatives, Laurent PAULIN from Château Belles-Graves and Jean TROCARD from Château Laborde, to present a tasting of wines from our appellation (in particular the wines from Châteaux Haut-Chaigneau, Haut-Musset, Voselle, Sergant, Laborde and Belles-Graves….)"
Speech given at this occasion by the Maître of the Commanderie de Bordeaux in Wallonia, Christophe Waterkeyn
Dear Commandeurs, dear future Commandeurs, dear friends,
At long last … here we are together in person, to celebrate Bordeaux wine, after a year and a half of hibernation for health safety reasons.
This evening, we welcome you in esteemed company. Primarily yours!
There are Commandeurs, easily indentifiable by the heavy medallion they wear with pride and there are future Commandeurs and friends, all great enthusiasts of Bordeaux wines.
Thank you all for having accepted this invitation to enjoy a moment of conviviality focused on wine in these blessed times of post-lockdown, assisted by the protection of vaccination.
We will be seated outside, warmed by heaters, at tables of six or eight people, according to standards specified by Hotels/cafés/restaurants. Small tables for service as we are standing on the grass will also enable us to comply with social distancing, while being outside.
But we know how to choose good company…. and what better choice could we have made than our friends from the "Lalande de Pomerol" appellation to accompany us for our first get together for a very long time, as we have been deprived of these moments since the beginning of 2020.
From the time of our formal event in 2017 and our trip to visit Lalande de Pomerol in 2019, special bonds have been formed between the winegrowers of this appellation and the Bordeaux wine lovers we are.
From my first contacts on 1st June with Nathalie Diffi, the tireless and talented representative of the Wine Syndicate and the Wine Brotherhood of Lalande de Pomerol, I felt that the passion to showcase Bordeaux and its wines was immense from both sides and very quickly the names of two renowned wine estates of the region were pulled out of the hat :
- Château Belles-Graves, managed by Xavier Piton and represented this evening by his deputy manager, Laurent Paulin. In 1983, the estate was acquired by the Théallet family, with an area under vine of 11 hectares and it changed its name to Château Belles-Graves. From grandmother to daughters, and now their children, the vineyard of Château Belles-Graves covers 17 hectares today.
Château Laborde, is owned by Jean Trocard.
The history of the Roy-Trocard family begins in 1628 !
It was at this date the Trocard family purchased its very first vines in the Libourne area. Since 1628, for each generation, there was a winegrower to cultivate the vines: 15 generations of men and women have handed down to one another in this way. Over the years, a family wine estate of 70 hectares of vines has been gradually established, divided between 3 properties and 4 Bordeaux AOCs. Château Jeandeman in AOC Fronsac, Château Laborde in AOC Lalande de Pomerol, Château Mancèdre in AOC Pessac-Léognan and La Piecelle in AOC Bordeaux Supérieur.
Château Laborde has belonged to Jean Trocard's family since the creation of the estate in 1730. With his impetus, the size of the Laborde vineyard has been expanded to reach a total area under vine of 24 hectares at present.
Naturally, I asked them to present their wines themselves. Who indeed could do this better?
You will see that the Wine Syndicate has spoilt us by giving us the opportunity to taste 4 other wines from fine estates: Châteaux Haut-Chaigneau, Haut Musset, Voselle and Sergant.
Our Vice-Maître, Olivier Monoyer, has drawn up sheets which will allow you to write down your impressions and take away with you, when you return home later, a small memento of the emotions given by these wines of Lalande de Pomerol.
This evening the Commanderie de Bordeaux in Wallonia, with its 90 members, welcomes Commandeurs, a number of future Commandeurs and some friends from the bastion of Brabant gastronomy.
The restaurant "Une Autre Histoire" was launched in 2002 next door to the head office of the Commanderie. What a coincidence …. !
The chef saw me every day, walking past the deliciously scented kitchens, sending aromas along the road and into the fields… an appetiser for a budding friendship that began in 2002 and which has strengthened by the chef becoming a winegrower of Villers in 2005 and finally a Commandeur de Bordeaux in 2016.
Benoît, the chef is a true leader… in the kitchen. Because for the rest of the business, the leader isn't always who you think… if you see what I mean. She is called Geneviève. Shhhh. A happy Benoît is expressed by the most flavoursome concoctions which will be spread before us for our greatest pleasure.
So, this evening, let us thank the two winegrowers who produce these exceptional wines and who have travelled from Bordeaux on a direct return journey especially for us. Let us thank them by tasting the wines from six estates, available this evening and please feel free to go and chat with them. They will tell you where to buy these wines in Belgium.
Before I hand over to Laurent and Jean, the Commanderie de Bordeaux in Wallonia presents you the Crémant de Bordeaux you are tasting now. This wine comes from the cooperative cellar named Winegrowers of Saint Pey Genissac, where the Vice-Grand-Maître of the Grand Conseil du Vin de Bordeaux, Hubert Burnereau, is also Vice-Chairman. This Crémant will be a superb accompaniment to the chef's appetisers.
Cherry on the cake! This evening, one of our candidates, who will become a Commandeur on 14th November, during our official event to be held in Jodoigne, in presence of the Jurade de Saint-Emilion, is celebrating his birthday. He decided, with his wife Nathalie, to come and celebrate this event with us. What an honour for us all. I call Zoltan.
Good health my dear friend and we look forward to the pleasure of welcoming you into our Commanderie very soon. This new year will delight you.
Thank you all very much. I wish you a very pleasant tasting and please enjoy your meal.
Dear Jean, dear Laurent, over to you.
Christophe Waterkeyn - Maître,
Commanderie de Bordeaux de Wallonie
28-07-2021
Zurück zur Liste der Events