ボルドー最高評議会
the Grand conseil du vin de bordeaux


CommanderIES, wine brotherhoods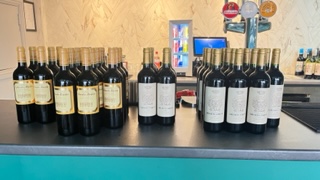 Commanderie
September 30, 2022
Manchester Commanderie Wine Tasting and Lunch - Sunday 25th September 2022
At midday on 25th September , 55 Commanders and guests met for what was, depending on your viewpoint, the last event of summer or the first of autumn.
We were greeted with a glass of Louis Vallon Cremant de Bordeaux – a discovery by our Maitre which was very favourably received. And so to the serious work of tasting – nine wines covering white and red, dry and sweet and young and mature. All were enjoyed with the favourites being possibly the G de Chateau Guiraud 2019 amongst the whites and Chateau Langoa Barton 2003 amongst the reds.
The lunch itself started with a spectacular and very summery dish of burrata with heritage and dried cherry tomato and gremolata. The quality was very high even if the quantity proved a bit too much for some. The challenge, of course, was finding a wine which worked with the dish as tomato and wine are a notoriously difficult partnership. However, it was generally agreed that the Chateau Marjosse 2021 worked well, especially with the burrata, and was a most enjoyable wine to drink with and without food.
The summer theme continued with the main course of chicken with feta and olives and niçoise potatoes. The accompanying Chateau Gruaud-Larose 2006 went very well with the food.
The second red wine Chateau Lalande-Borie 2014 was much younger but already showing well and complemented the Tunworth and Gorge Cheddar cheeses that were served with it.
The final course of raspberry mille-feuille was widely considered one of the prettiest dishes ever to have been served at a Commanderie event and fortunately it tasted good too! The dessert wine was Chateau La Tour Blanche 2009, served in half bottles, a lovely mature Sauternes and for many the wine of the day.
An excellent event ended with a memorable, if bittersweet, moment when for the very first time we raised our glasses to toast the new King.
Our thanks must go to the organisers and to all at Manchester Hall for providing such an enjoyable afternoon.
Tim Edwards (Vinothecaire)
イベントリストへ戻る