ボルドー最高評議会
the Grand conseil du vin de bordeaux


CommanderIES, wine brotherhoods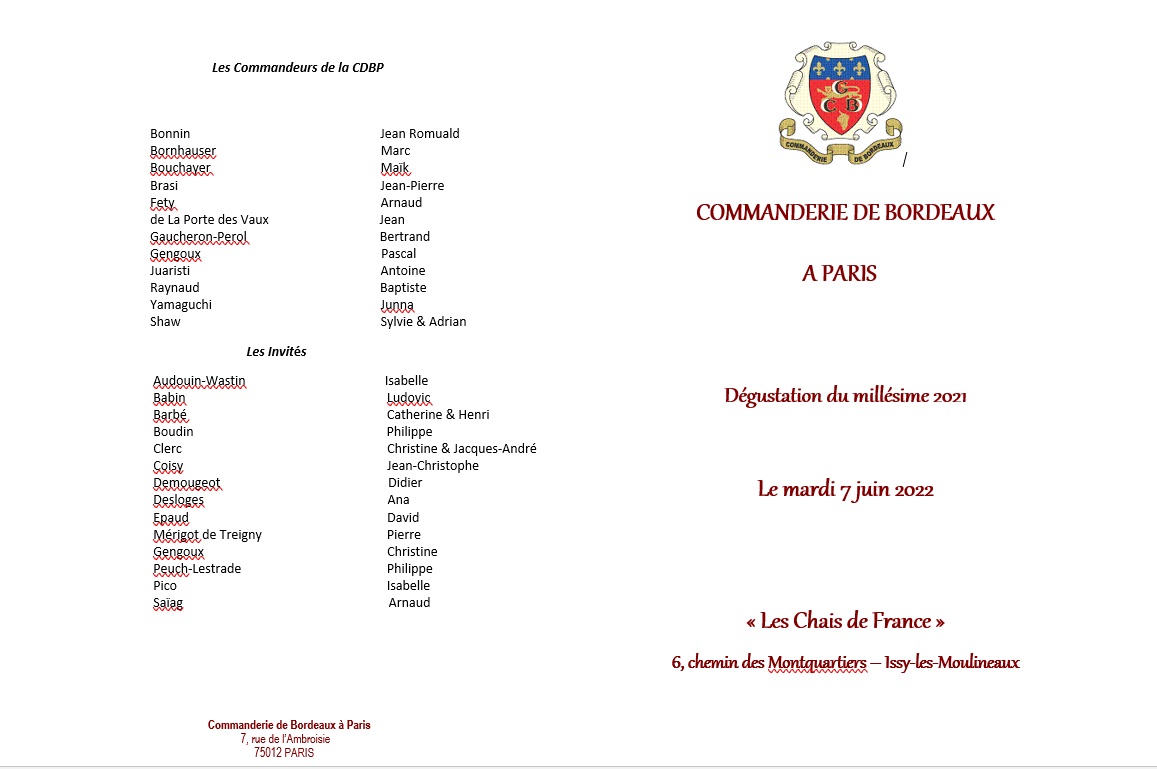 Commanderie
June 10, 2022
Bordeaux 2021 Vintage Tasting, by the Commanderie de Bordeaux in Paris
Maître Antoine Juaristi
The Bordeaux 2021 Vintage Tasting we held on Tuesday 7th June 2022, at the Chais de France, was a great success, according to remarks we received from our Commandeurs and guests.
These comments speak louder than personal analyses:
"Superb!"
"Thank you again (...) for the success of this evening tasting. The choice of the chef too."»
"A success highly appreciated by all our guests, which will bring results in the short term (for forthcoming memberships)."
"Thank you for your welcome and generous kindness in so many ways that made this evening very enjoyable and full of sensations, recollections and experiences shared between participants."
"A very friendly, pleasant and professional evening. A great success."
"A big thank-you for this evening tasting yesterday: an educational and stimulating experience for the tastebuds, and all in excellent company. "
"It was a really superb evening. 1) The wines: good, the activity is very interesting and novel. 2) The food: really excellent tapas. 3) The audience and participants: a great success. I was delighted to have been able to have a more active participation with a certain number of Commandeurs, a group I find very friendly. All in all, a great experience and I confirm my wish to join you, if my application is of interest to the Commanderie!"
The link of the video/replay of the Bordeaux Wine School webinar, "All the shades of colour of the 2021 Vintage" was sent to all the Commandeurs and guests so that they were even more fully documented, following the instructive explanations given on Tuesday evening by Isabelle Adouin-Wastin.
イベントリストへ戻る