Veranstaltungen
the Grand conseil DU VIN DE BORDEAUX
CommanderIES, WINE brotherhoodS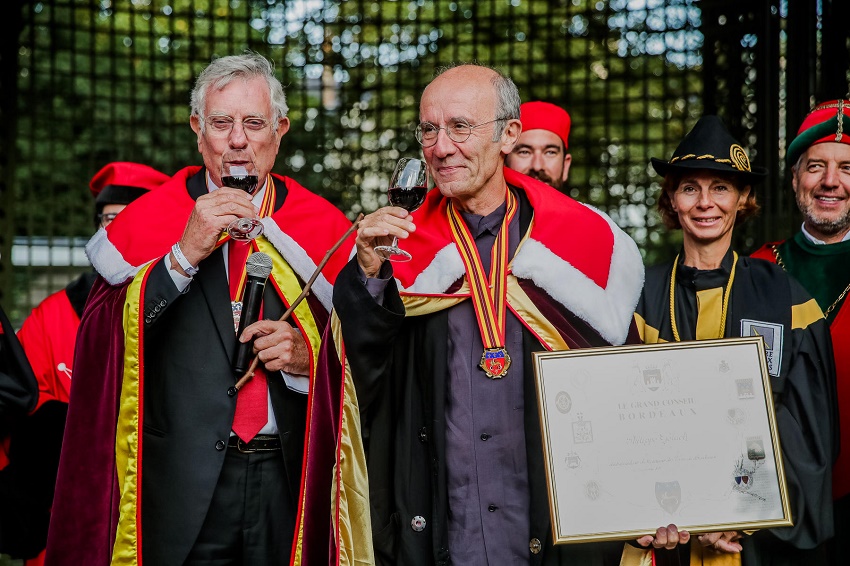 The Grand Conseil du Vin de Bordeaux
September 10, 2019
Eat Brussels, Drink Bordeaux, in Brussels from 5th to 8th September 2019
Bordeaux Wine Festival in Brussels
At the beginning of the month of September 2019, accompanied by members of the Bordeaux Wine Brotherhoods, Francis Boutemy, Grand Maître of the Grand Conseil du Vin de Bordeaux, travelled to Belgium to Brussels to host an induction ceremony for the official inauguration of the Festival Eat! BRUSSELS, Drink! BORDEAUX, on Thursday 5th September 2019.
Mr Philippe GELUCK was inducted as Honorary Ambassador of Bordeaux Wine. Philippe Geluck, born in Brussels in 1954, is a very famous sketch artist and comedian, who regularly makes appearances on radio and in television programmes.
After this induction, a Gala Dinner was held at Vaul-Hall in Brussel's Royal Park, with Bordeaux wines presented by more than 50 winegrowers and merchants.
Guests of honours at this evening event were:
Rudi Vervoort, Minister-Chairman of the Region of Brussels-Capital
Sven Gatz, Minister for the Region Brussels-Capital image of Brussels
Pascal Smet, Secretary of State for the Region Brussels-Capital European and International relations
Philippe Close, Mayor of Brussels
Stephan Delaux, Deputy Mayor of Bordeaux, Chairman of Bordeaux Major Events
Bernard Farges, President of the Bordeaux Wine Trade Council
Ahmed Medhoune, Chairman of visit.brussels
Patrick Bontinck, CEO of visit.brussels
Photo Credit : Guillaume Bonnaud
Zurück zur Liste der Events