Veranstaltungen
the Grand conseil DU VIN DE BORDEAUX
CommanderIES, WINE brotherhoodS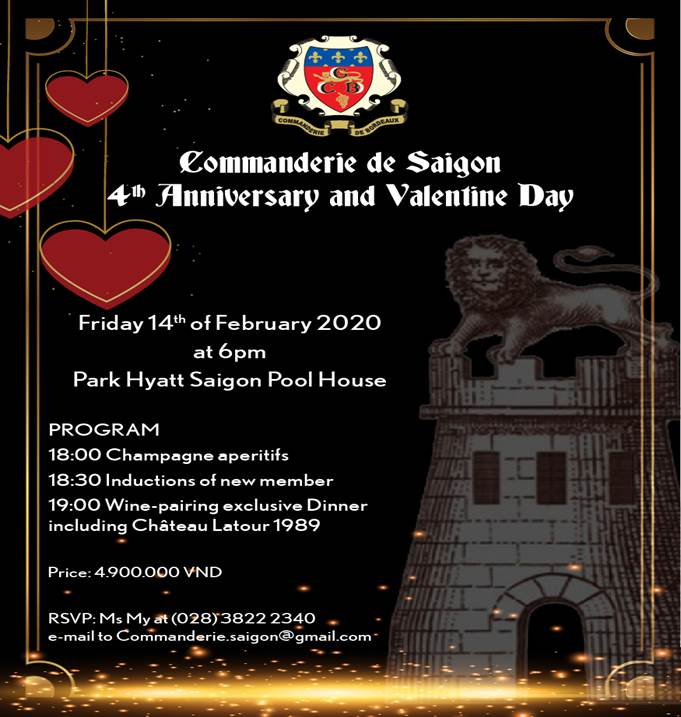 Commanderie
December 11, 2019
Commanderie de Bordeaux in Saigon - 4th anniversary celebration and Saint Valentine's Day
Maître Alain Cany informs us that the next event of his Commanderie de Bordeaux in Saigon will be on Friday 14th of February 2020. It will be another outstanding event to celebrate the Commanderie de Saigon's 4th Anniversary and Valentine's day!
Wines have been sourced directly from the Chateau, Chateau Latour 1989, for this special occasion.
4 other outstanding "Grand Cru" Bordeaux wines will be served, with a pairing menu prepared by Executive Chef Heath Gordon and his team.
Venue: Park Hyatt Pool House
18:00 Champagne aperitifs
18:30 Inductions of new members
19:00 Dinner
Alain Cany wishes you all a Merry Christmas and a Happy New Year!
Zurück zur Liste der Events